** I was provided with a copy of this title for the purpose of this review. However, my own opinion was used and not influenced in any way.
Bash and the Pirate Pig by Burton W. Cole
My daughter is finally getting to that age where she really enjoys reading chapter books. Recently I was sent a copy of Bash and the Pirate Pig for the purpose of this review. When the book arrived I was on my way to pick up my daughter from school. I decided that I would surprise her with this book and I placed it in her seat so that she would find it when she got in the car. As soon as my daughter seen this book she started reading the back of the book to see what it was about. As soon as she seen the words 'The Bible' on the back of the book her face lit up. My daughter loves to read the scriptures and she loves to read books that are written with the Lord in mind. My daughter was so excited for this book that she read the first three chapters in the car, out loud to me, on the way home from school.
It took my daughter a week to read this book. She could not put it down. She even continued to bring the book to her father and I to read her favorite parts. I loved listening to her little giggles as she read and I know that this book was inspiring to her! Thank you Burton W. Cole for writing such a kid friendly title for all of us to enjoy!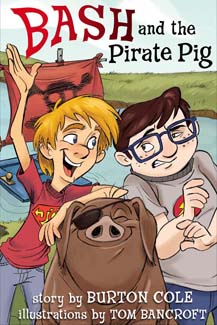 On The Back
"For stupid reasons that weren't my fault, I was tried, convicted, and sentenced to a summer with my wacko cousin Bash on the Farm of Doom."
Raymond "Beamer" Boxby is a cranky city kid who prefers air conditioning and video games to the great outdoors. When his parents break the news that he will spend summer vacation at his younger cousin Bash Hinglehobb's farm, it feels like one of those "game over" moments.
Beamer can't imagine what good could come of this so-called country fun that includes riding cows, sharing a raft with a pig, and chasing skunks. But if he would just give it a fair try, this grumpy guy might realize Bash's zany adventures – often involving his "Farmin' and Fishin Book" (The Bible) – could take the game of life to the next level!
Bash and the Pirate Pig 

Written by: Burton Cole

Illustrated by: Tom Bancroft

Publisher: B&H Kids

Hardcover: 224 pages

$12.99
Stay Connected: 
B&H Kids Facebook: https://www.facebook.com/BHPubKids

B&H Publishing Twitter: @BHKidsBuzz

Website: http://www.bhpublishinggroup.com/books/products.asp?p=9781433680694

How would you like to win a copy of the fun-loving book? I am happy to say that one of my US or Canadian readers will be able to do just that! Good Luck!