This  Monroe and Main Review/Giveaway is part of a Fashionista Events opportunity.  Clothing/accessories were provided by Monroe and Main as noted below.. 
Monroe and Main 2013 Fall Line
I always put off clothes shopping. There is not a lot of choices in my town for clothing that is my size and/or style. It is hard for me to find items I like so I just choose not to buy anything. More and more I am seeing my friends purchase cute stuff online. I myself have always hated online shopping. It seems that every time I purchase something online the item fits differently then I expected and I end up never wearing what I purchased!
Recently I was given an AMAZING opportunity to review an outfit from Monroe and Main's 2013 Fall Line. I can honestly say that because of my experience with online shopping in the past I was nervous for this review. I did not want to get my heart set on an amazing outfit and then have it arrive and not fit me the way I had hoped it would.
As I went through the Monroe and Main fall line I had a hard time choosing my outfit. There are so many great choices to choose from. I would wear just about every item on their site! From jewelry to dresses I knew that I could not go wrong.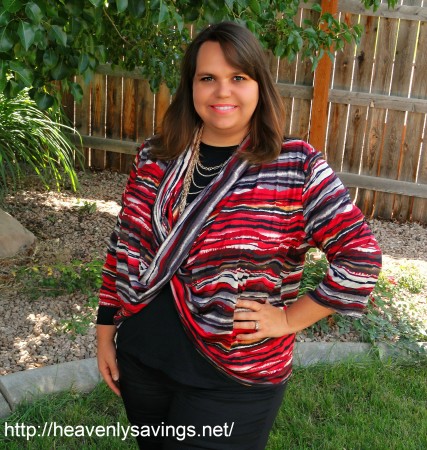 I ended up choosing a pair of black-stretch-cotton pants, their painted horizon top and a stunning long multichain necklace! I knew that if this outfit fit me the way their sizing chart said it would….then it would be PERFECT!
Monroe and Main was very easy to order from and my items arrived in about a week. I was stoked to be able to try them on. The first item I tried was the pants. I am so picky about my bottoms and I honestly did not expect them to look as great as they did. They fit like a glove! Pants are always my hardest item to find and I am blown away by how well they fit!
Of course after trying on the bottoms I could not wait to get on the rest of the outfit. The top and necklace were just as amazing as the bottoms! I am in love with my new Monroe and Main outfit! The sizing chart is absolutely correct. Because of this simple fact I now know that I will be purchasing many, many outfits from them in the future!
Monroe and Main has a great fall line. There are so many great jewel tones in their clothing styles this fall and the modern edge is fabulous and unlike anything I can purchase here in my small town! I love it! Thanks Monroe and Main for giving me faith in online clothing shopping!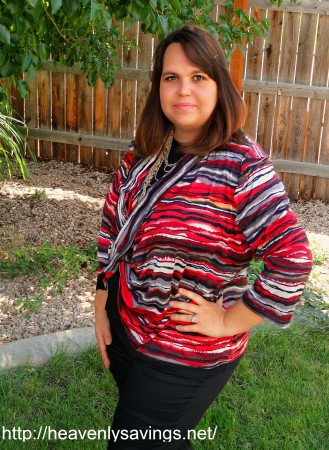 Don't forget to follow Monroe and Main on their different social media outlets to stay up to date and learn more!
Facebook @https://www.facebook.com/MonroeandMain
   Twitter  @https://twitter.com/MonroeandMain
 Google+  @http://gplus.to/MonroeandMain
Pinterest  @ http://pinterest.com/monroeandmain

Or you can:
Check out Our Fit For You Guide: http://www.monroeandmain.com/custserv/custserv.jsp?pageName=FitForYouGuideHowToMeasure

Find out more about the Monroe and Main Credit Plan  http://www.monroeandmain.com/custserv/custserv.jsp?pageName=altCreditFull

Request a free catalog:  http://www.monroeandmain.com/catalog/request_catalog.jsp
How would you like to be one of 10 US readers to win a $100 Monroe and Main Gift Card? I am so happy to say that you will have that chance! Good Luck to all!