Mike the Knight Magical Mishaps!
The weather in my state was terrible this past weekend. The entire weekend was filled with rain shower after rain shower making it hard for the kids to play outside. The kids were disappointed by this but to be honest I was happy to see the moisture and to be able to spend the time cuddling and watching movies with my daughter!
One of the movies my daughter and I were able to watch together was Mike the Knight Magical Mishaps. This was my daughters first time watching Mike the Knight so I was happy to introduce something new to her. As some of you might have read my daughter has a huge fascination with dragons right now. It seems that EVERYTHING in her life is about dragons!
As my daughter started to watch Mike the Knight she was so excited to see dragons in the fun loving cartoon! Plus it is a cartoon show that is appropriate for all ages of children. Mike the Knight is shown on Nickelodeon and this DVD contains 5 episodes and is 56 minutes long! Happy Watching!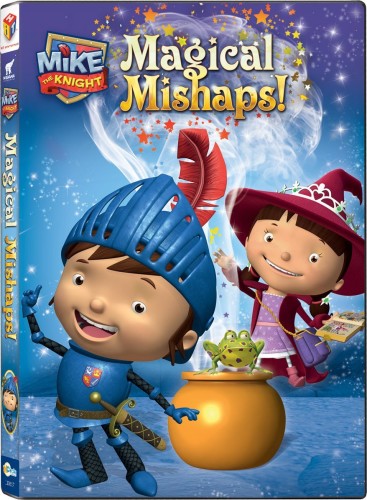 On the Back
While Mike is training to be a knight, his younger sister Evie wishes to become a wizard. Accompanied by her pet frog Mr. Cuddles, Evie uses spells to help Mike with his missions, but a series of magical mishaps occurs: Galahad is covered with polka dots, the Throne Room gets filled with dirt, and Sparkie and Squirt disappear when Mike accidentally wishes them away. Though Evie does her best to help, Mike thinks his missions would be better solved using his knightly skills!
How would you like to win a copy of Mike the Knight Magical Mishaps? I am happy to say that one lucky US reader will have that chance! Good Luck to all!