Disney Super Buddies
My daughter has had a fascination with dogs ever since she was a small child. Her favorite games, toys, movies and books are all about dogs! That is why all of the great Disney Buddies movies are such a huge hit at my house! Today (August 27) Disney has released a new Buddies movie! Super Buddies is currently available on Blu-ray and DVD.
Recently I was sent a copy of Disney's Super Buddies for the purpose of this review. I was very excited about this movie because it not only has the amazing Buddies that my daughter and I have grown to love, but it's also about super hero's which is just awesome!
In the Super Buddies movie you will be taken on a journey with the Buddies and their owners as they try to save their town…..a town which they don't even know is in danger at first. Watch as the Super Buddies get ahold of some magic rings that they think are fake….and watch the fun super powers that come with these magic rings! Will they be able to save their town? You will have to watch and see!
– I really enjoyed this movie! It was great for the whole family and a movie that I know we will watch again and again! Thanks Disney for yet another amazing movie!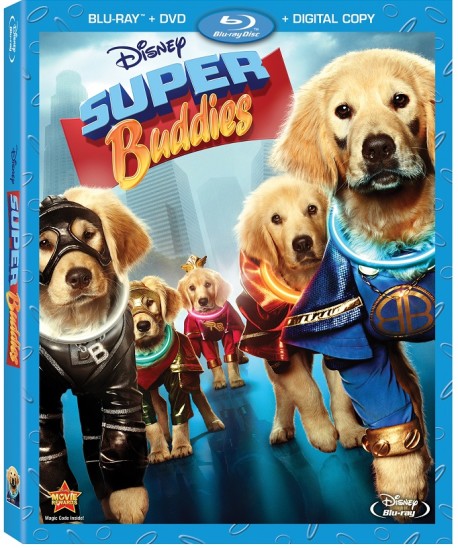 On the Back
Watch the fur fly as a new breed of super hero is born in Disney's fun-filled epic adventure.
An ordinary day at Fernfield Farms turns extraordinary when Budderball, Mudbud, B-Dawg, Buddha and Rosebud discover mysterious rings that grant them each a unique super power. Before you can say, "Buddies, assemble," the pups unleash their amazing abilities and race to the rescue when a shape-shifting bully from outer space threatens the planet. But can they succeed in kicking major tail without revealing their new secret identities?
A must-own movie event packed with laughter, action and incredible new characters, Super Buddies proves that when you use your wits and work together, you don't need super powers to be a super hero!
How would you like to win a copy of Disney's Super Buddies? I am happy to say that one lucky US reader will be able to do just that! Good Luck to all!