** This is a sponsored post. All thoughts and opinions used were my own and may vary from others. This post was not influenced in any way.

My family just recently moved to the Pacific Northwest and we are always looking into ways to keep the kids' active indoors on those rainy days. I am always trying to find a ways to keep our indoor activities intriguing, fun and educational all at the same time and it always tends to revolve around music!
I am not sure about your kids but my kids LOVE music and anything to do with it. We are either making it or listening to it. There are studies that have proven the fact that music can actually raise math and reading test scores in children! When my kids are writing in their daily journals I make sure to turn on some Bach or Mozart to keep everyone in the right frame of mind and I only do that because when I was in elementary school my teacher would do that same thing. We would listen to classical music while taking tests.
There are some fun ways to engage your children and incorporate music in your home, here are some ideas you can try out with your kids and the number one rule here is to HAVE FUN!
Musical Chairs
Homemade Tap Shoes  – tie washers to the bottom of the shoes with shoestrings!
Listen to music and draw sound waves with finger paint
Create your very own musical instruments, click here for some creative ideas!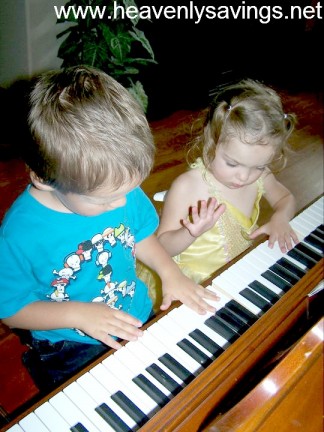 Educational activities are fun and a great way to bond with your child. All of these activities can be done inside on a hot day, snowy day and everything in between! You can incorporate music in just about everything you do at home, your kids can help bake cookies with you as you sing along to your favorite tunes or just simply pop in a cd and start dancing the night away. We love to get our PE hours in this way as well so it really works out great for us! Have fun with your kids and help give them that extra edge!
TakeLessons helps students and families connect with private music teachers, arts instructors and academic tutors throughout the US. Our teachers can teach in your home or provide lessons at their studio. We also offer Online Lessons, which are a popular option for busy families. Search for a teacher and sign up for lessons at TakeLessons.com or give us a call at 855-684-5482. Use the coupon code MUSIC18 to get 20% off your lessons when you book now!
~Tammy~