Plumcot Barbecue Sauce
I am the first person to try new things. Recently I was able to score a huge bag filled with Plumcots. This was my first experience with Plumcots and besides snacking on them every day I was excited to try out some new canning recipes.
As I searched the internet I had a hard time finding recipes that contained Plumcots. That is when I decided to get a little creative! I decided to find a couple of Peach Canning recipes and try out those recipes using Plumcots instead of Peaches.
The first recipe that I made was some Plumcot Barbecue Sauce! I honestly did not know how this would turn out……but I can now say that it is amazing! Yum!
The Plumcot Barbecue sauce is sweet and tangy and goes great with Chicken and Fish!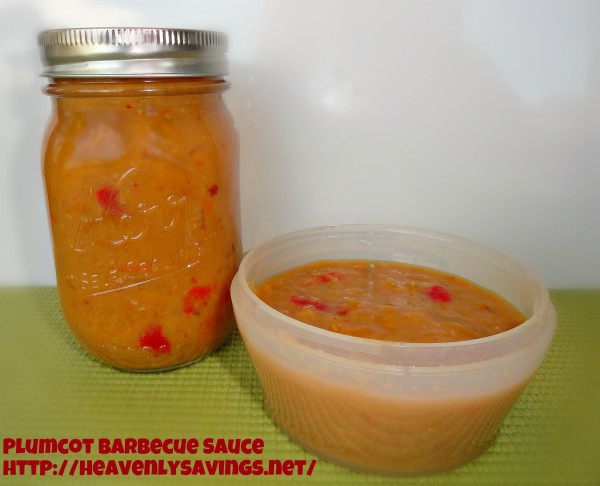 Ingredients:
6 cups chopped Plumcots
1 diced red bell pepper
1 diced yellow onion
1 head crushed garlic
1-1/4 cups honey
1 1/4 cup cider vinegar
1 Tbsp Worcestershire sauce
2 tsp hot pepper flakes
2 tsp dry mustard
Directions:
1. Combine all ingredients in a large saucepan and bring to a boil. Reduce heat and simmer until sauce thickens, stirring often until ingredients start to break down and form a sauce. (about 25 minutes).
2.) Ladle sauce into hot jars and place lids and rings on jars.
3.)Process in  boiling water canner for 15 minutes. Remember to add time for your altitude if needed.