The Best Homemade Clam Chowder With Bacon!
Since recently moving to the beautiful Pacific Northwest, I have had some amazing opportunities to experience the fresh seafood that is basically in "our own backyard." And coming from a town in Colorado where I was literally surrounded by mountains, I was excited to start learning and experimenting with some fresh seafood. I absolutely love living near the ocean and couldn't wait to make my very own batch of fresh clam chowder!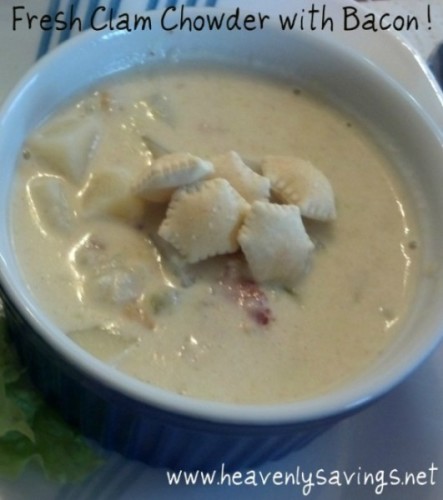 Luckily, my husbands father has lived here his whole life and he has been making clam chowder the same way his own mother has been making it and I feel honored in them sharing with me what they do!
The day started out with my family getting on a boat with some shovels and buckets. Oh yes, we were literally going to make our own clam chowder and that meant digging for the clams ourselves! Of course you can just go to the store and get the canned clams but why do that if you have the opportunity to get them yourself, much more fun right??! Well, my arms are still sore from digging but honestly it was worth it. We were told that about 20 butter clams would give us a nice batch of clam chowder.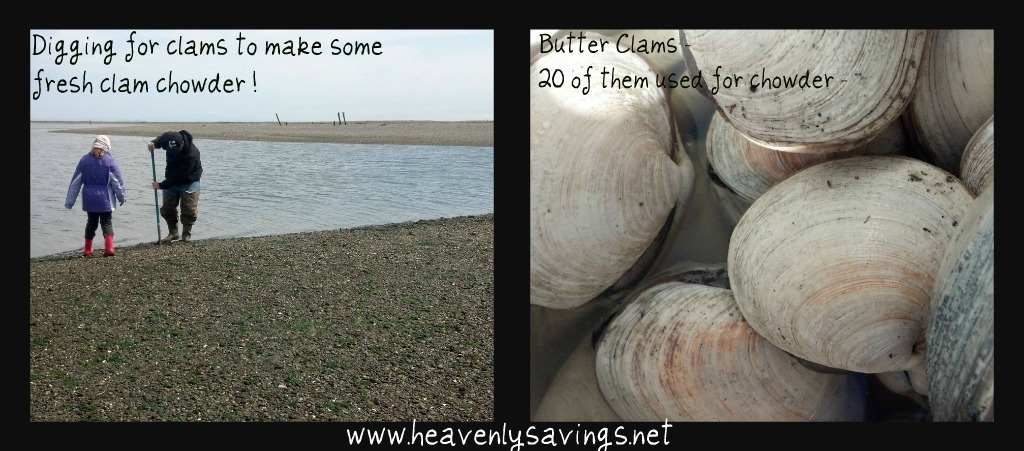 Now for the not so fun part that I did NOT take a picture of. The cleaning. Luckily again I was taught the correct way to clean a clam but that didn't make it any easier. But again it was a great experience and I honestly didn't mind it at all! After the clams were all chopped up into little pieces then the fun began, the process of building the chowder. I used two big pots to make this chowder. One pot has the clams in water boiling (the house starts to smell amazing) and the other pot has the "base" of the soup.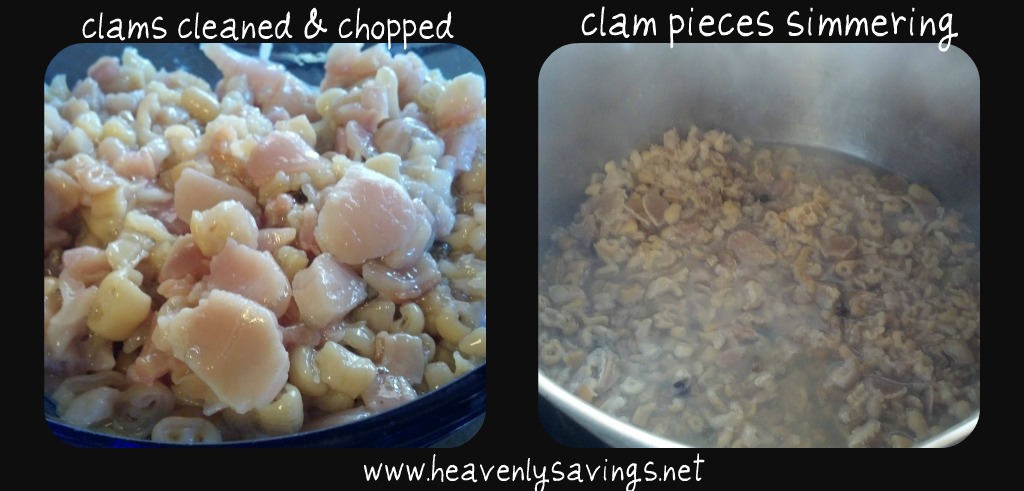 I added bacon, onion & celery to the other big pot to get the base of the soup started and oh man, you just can't go wrong with bacon!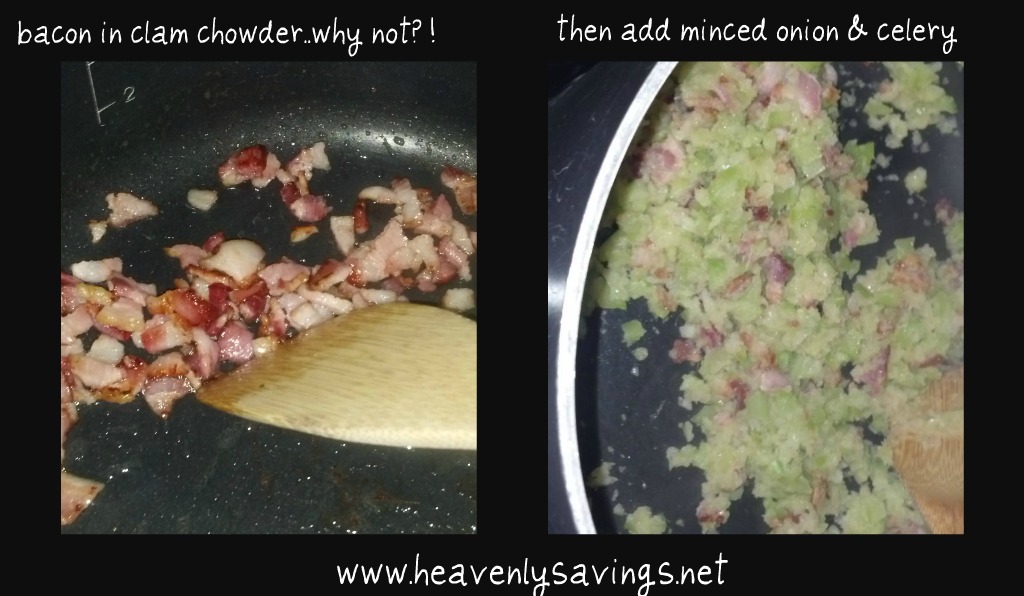 I added potatoes that I cut up in really little pieces because I was at this point getting anxious and didn't want to wait forever for the potatoes so the smaller the pieces, the quicker they will cook. After I added the water the clams were cooked in, I took some of that potato mixture out (about two cups) pureed it and put it back in so the mixture wasn't so chunky, that adds some creaminess to the soup as well.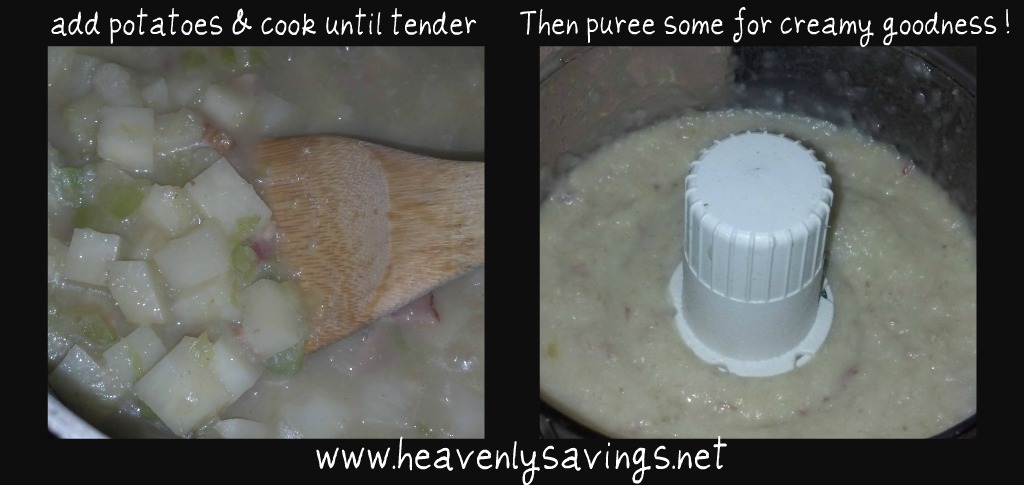 Then I added some heavy cream and a couple of other things (see the ingredients down below) and heated it back up to a simmer then added the clam pieces and let that simmer and it was done!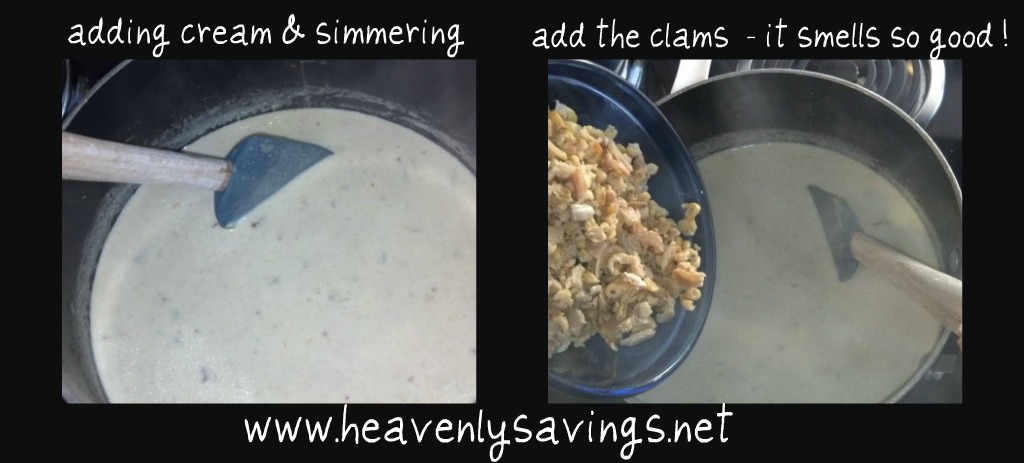 I have always loved the little "pillow" crackers so my husband ran to the store and got some of those because you just can't have clam chowder without them!
I had a great time making fresh clam chowder, you can't get any fresher and I feel so lucky that my husband has family that is willing to teach me how to live off the land…or ocean in this case!
Ingredients:
20 Butter Clams cleaned and chopped (or 2-3 cans of clams depending on how many you want in there, my guess would be 3 large cans)
6 pieces of bacon cut into pieces
1 yellow onion minced
2 celery stalks minced
4-5 baking potatoes peeled and chopped
2 cups heavy cream or heavy whipping cream because my store didn't have heavy cream, I guess I could have used half and half as well.
1 tsp. salt
1/2 tsp. pepper
Red Hot Sauce or any other hot sauce to dash into it at the end
2 tsp. ground Thyme or dried or fresh…whatever you have.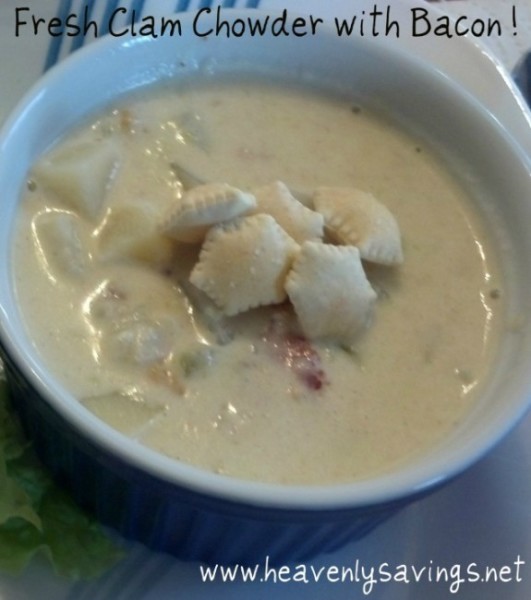 Directions:
1.) Simmer clams in large pot with 4 cups water for approx. 30 minutes or longer (some of my husbands family lets it simmer upwards to 45 minutes) but I found that 30 minutes was plenty!
2.) In another large pot, fry up the bacon pieces which should take about 8 minutes and if there is a lot of fat then discard most of it but you should leave about 2 TBS of bacon grease in there for flavor. I didn't get rid of any grease because it was close enough to
3.) Add onion and celery to the bacon and sauté for another 8 minutes or until tender. While this is sautéing, drain the clams, reserving the liquid in another bowl and set the clams aside.
4.) Add liquid from clams (about 2 cups you should have, if not add enough water to make 2 cups) to the onion, celery & bacon mixture along with the potatoes, thyme, salt & pepper. Simmer until potatoes are tender (mine took 10 minutes because they were tiny pieces)
5.) Scoop 2 cups of that potato mixture into a food processor or blender and puree it, then pour it back into the mixture. Then add cream and a couple dashes of hot sauce ( you can leave that out if you prefer and add it to your individual bowl)  -Simmer for about 5 – 10 minutes.
6.) Enjoy!
~Tammy~