** I was provided with a copy of this title for the purpose of this review. However, my own opinion was used and not influenced in any way.
Scooby-Doo! Stage Fright
Original Movie
Most of you know that my daughter loves Scooby-Doo! It has been her favorite cartoon since she was 4 years old. She even has a big Scooby-Doo stuffed animal that she got from my brother 4 years ago that she still takes everywhere she goes. She can not sleep at night without him and he is always buckled into the car seat next to her. She loves Scooby SOOO much!
Needless to say that every time a new Scooby-Doo movie shows up my daughter wants to drop everything she is doing and watch it right away!
Currently as I am typing out this review the kids are all gathered on the couch watching this new Scooby-Doo! Stage Fright Original Movie. This movie could not have arrived at a better time as we are stuck indoors today as the rain is pouring outside!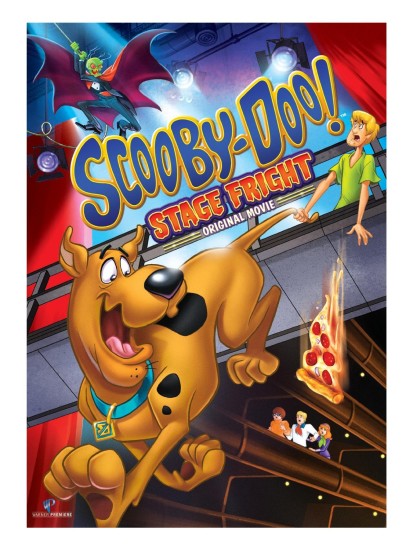 In Scooby-Doo! Stage Fright you will see the same fun-loving gang that you are used to seeing. But, this time they are on a whole new adventure.
Watch as Scooby-Doo and the Mystery Inc. gang tour around Chicago. Including a talent show that places the kids into a whole new mystery to solve. Will they be able to solve it in time? You will have to watch and find out!
On the Back
Join Scooby-Doo, Shaggy and the Mystery Inc. crew as they head to Chicago for a talent show, some museum tours and a whole lotta pizza! The windy city is home to the hit TV show Talent Star, in which songwriting duo Fred and Daphne are finalists with some high hopes. Not to be left out, Scooby and Shaggy have a secret act in the works that they're betting will take the contest by storm. Unluckily for them, the competition is frightful at  this talent contest, as the show is being broadcast from an opera house with a history of horrors and a particularly vengeful phantom who has cursed the show's production. From costume changin' chases to collecting creepy clues, the show must go on, and with a natural talent like Scooby-Doo on the case, you can be sure that the laughs, thrills and adventure are always in first place!
How would you like to win a copy of Scooby-Doo! Stage Fright? I am happy to say that one of my lucky US readers will be able to do just that! Good Luck!