Hasbro's New Chasin' Cheeky Game!
Hasbro has been a huge part of my life since I was a young child. I have always loved playing games and we all know that Hasbro makes the best games out there! I love all the new games and features that Hasbro is always adding to their games to keep them current and fun for the whole family!
Now that I am older and have a daughter of my own, I find myself turning to Hasbro every time we are looking for some fun!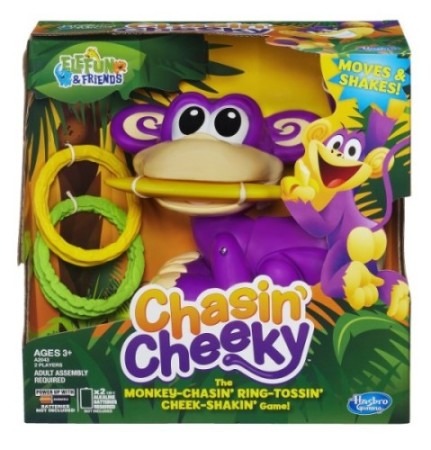 Recently Hasbro released a new amazing game called Chasin' Cheeky. Chasin' Cheeky is made for ages 3+ and is a 2 player game. The first thing you need to do in order to play Chasin' Cheeky is scatter the two different colored rings all over the room where you are playing the game. Once the rings are scattered you can turn on Cheeky. He will begin to shake and dance around the room. As he is shaking around it is up to the kiddo's to find all of their colored rings and place then om Cheeky's tail.  This is easier said then done as Cheeky is constantly dancing and moving around. After you get your rings around Cheeky's tail you need to grab the banana out of his mouth and start to dance along with him!
I love that Chasin' Cheeky will have little ones laughing and moving around. Any game that keeps kids active is a game for me! Some of these kids that I tend during the day would rather sit in front of the T.V. all day….but as soon as I turn on Chasin' Cheeky they are off the couch and running around! It's great!
How would you like to win a Chasin' Cheeky game of your very own? I am excited to say that one lucky Heavenly Savings reader will be able to do just that! Good Luck to you all!