** I was provided with a copy of this title for the purpose of this review. However, my own opinion was used and not influenced in any way.
VeggieTales MacLarry & The Stinky Cheese Battle
VeggieTales is my favorite cartoon. No matter how old my daughter gets, I make her sit and watch VeggieTales with me. Ok…so I don't really "make her" since she loves it as much as I do!
VeggieTales MacLarry & The Stinky Cheese hit the shelves yesterday and is now available for you to purchase. In this fun-loving DVD you will watch MacLarry and his fellow barbarians in silliest war of pranks ever! But, all these pranks are not making MacLarry happy. MacLarry instead longs to follow his God given talents…..which is building things! This is much to the dismay of MacLarry's father Chog Norious who is also the head of the barbarians. In Chog's opinion MacLarry is wasting his talents on building contraptions that don't matter instead of focusing his time on building and playing pranks on the other tribe.
As MacLarry watches his fellow barbarians prepare for battle he decides that he does not belong with his barbarian family and heads out to find a fellow inventor who he longs to meet. As he arrives to meet his idol inventor he realizes that this hero is not there…but someone who he thinks is a friend of the inventor is there and would like MacLarry's help. But, it does not take long for MacLarry to learn that he was not helping a friend of the inventor…but helping the rival tribe that his family has been battling. Will MacLarry be able to make things right? Will his inventions be able to help his family win the battle of pranks? You will have to watch and find out!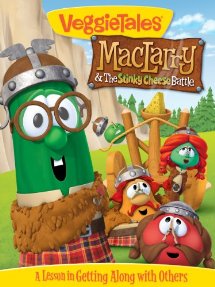 On the Back
Larry the Cucumber stars as MacLarry – misfit inventor who is stuck in the middle of the silliest battle ever between two tribes of perpetual pranksters! When the biggest prank of the century is unleashed, the feuding tribes are in danger of being overcome by the stinkiest cheese in the land! Will MacLarry realize that his God-given talents may be just what is needed to save them all from the rotten cheddar??
DVD MacExtras!
"Kilts & Stilts" Singalong
"We're Barber-barians" Singalong
MacLarry Downloadable Activity Pack
5.1 Surround Sound
English and Spanish Subtitles