**I was provided with a copy of this title for the purpose of this review. However, my own opinion was used and not influenced in any way.
Alone Yet Not Alone by Tracy Leininger Craven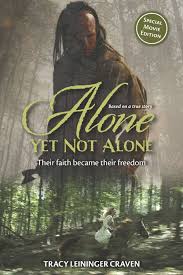 Last year my daughter had to do a school project where she had to find an ancestor and learn as much as she could about their life. She had to write up a report on that ancestor as well as bring in a food from that ancestor's native country.
During my daughters report we discovered a distant Grandfather who was captured by Native Americans. He was with them for a few years along with another woman who he feel in love with and after they escaped they were married. It was really neat to learn about these distant ancestors and the trials that they went through. I can't imagine what life was like for them.
In this book Alone Yet Not Alone by Tracy Leininger Craven you will be taken on a journey with two sisters as they are torn from their family and taken captive by Allegheny warriors. You will not be able to put this book down as you read about these strong girls who never lose faith.
I loved reading this book. It is inspiring to read about Barbara and Regina and the love they have for the Lord.
On the Back
A Miraculous Survival. An Extraordinary Faith.
The Leininger family settled deep within America's new frontier, in the Blue Mountains of Pennsylvania. They were celebrating their blessings, their faith, and a bountiful harvest when their family was torn apart by the Penn's Creek Massacre. When Barbara and Regina are carried away and separated by Allegheny warriors, both sisters rely on their faith in God's truth, even in their darkest hour. Rich in historical details, Alone Yet Not Alone is an inspirational, true story of a family caught in the cross fire of the French and Indian War.
About The Author: 
Tracy Leininger Craven
loves history and retelling real-life stories in her historical fiction books. She also loves spending her free time in the great outdoors with her husband David and their four children.

About Alone Yet Not Alone (THE MOVIE):
Families will love this film based on a true story!  Awarded 5 Doves from the Dove Foundation!
How would you like to win a copy of Alone Yet Not Alone? I am happy to say that one lucky US reader will be able to do just that! Good Luck!