**I was sent a copy of this Blu-ray for the purpose of this review. However my own opinion was used and not influenced in any way.
Tom and Jerry's Giant Adventure Original Movie!
I can not stress enough how much we love Tom and Jerry at my house. I love that it is a cartoon I grew up watching and something my daughter loves to watch as much as I do!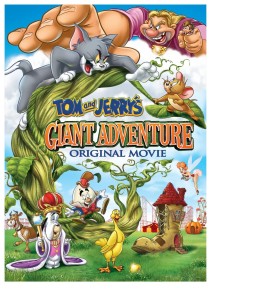 Tom and Jerry's Giant Adventure Original Movie is about a boy who is working hard to save the life that his father built for him….but that is easier said then done when it comes time to pay the taxes on the family business. It sure is a good thing that this sweet little boy has his dear friends Tom and Jerry on his side!
On the Back
In this all-new original movie, Tom and Jerry are among the last animals living in Storybook Town, a fairy-tale-inspired theme park "where dreams come true, if you believe." Young Jack is desperate to save the park from the hands of a greedy billionaire, setting out with his loyal cat and mouse friends to sell his prize cow for…some magic beans?! What follows is a journey up a beanstalk to a magical land ruled by a massively mean and hungry giant and home to fun, fabled fellows like Droopy, Spike and even a golden goose! Will Tom and Jerry put an end to their furry feud long enough to save Storybook Town? You don't need to wish upon a star. Join Tom and Jerry on their amazing adventure and find out!
I am happy to say that I also have a way to make this movie even more fun! With some Tom and Jerry color pages! What a great way to have the kids interact while watching! Hope you enjoy!