Canned Strawberry Rhubarb Jam
I love how well Strawberries and Rhubarb go together. There is no better combination in my opinion! That is why when I was given the chance to stock up on some strawberries and rhubarb I could not turn them down.
I canned so many different strawberry rhubarb combinations including pie filling, syrup and this jam! I am excited that I will be able to have Strawberries and Rhubarb all year long!
Strawberry Rhubarb Jam is one of my favorite jams on a peanut butter and jelly sandwich. We have been eating this stuff like crazy! This is a jam that the whole family loves and we can't get enough!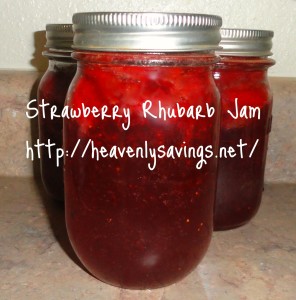 Ingredients:
9 cups diced rhubarb
9 cups
4 tbs lemon juice
4 (1.75 ounce) package powdered fruit pectin
1 tbs butter
20 cups white sugar
Sterilized Canning Jars
Directions:
Place diced rhubarb, diced strawberries, lemon juice, fruit pectin, and butter into a large kettle over medium heat. Cook about 2-3 minutes stirring often until the juice starts to form.
Add sugar, I usually add 1 cup at a time, stirring constantly until sugar is dissolved.  Bring the fruit mixture to a  boil. Continue to cook stirring often for 1 minute while also skimming off any foam that forms.
With a canning funnel and a  ladle, pack the jam into the sterilized jars. Fill the jars to within 1/4 inch of the top. Take butter knife and run around sides of filled jar to let out any air bubbles that might have formed.
Process in boiling water canner 10 minutes (Also remember to add time according to your altitude).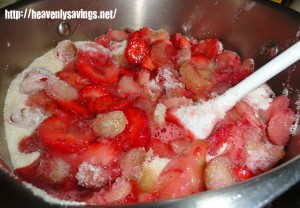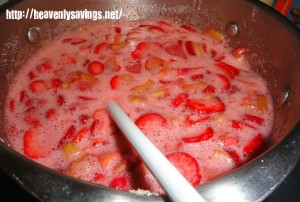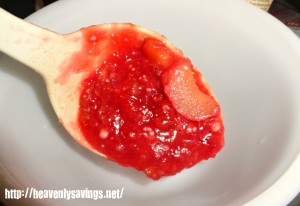 This jam turned out amazing! Yum! What is your favorite jam?
Thanks All Recipes!