Bart's Cookies!
I was beyond excited when I received some delicious cookies from Bart's Cookies to review! Of course so were my kids and husband too!
I have to be honest, I make the worst chocolate chip cookies. Trust me, it's not that I haven't tried. I absolutely love to bake, I love to try new things and have had a great time baking cakes for family and friends but when it comes to cookies, more specifically chocolate chip cookies, something happens and the oven spits back out flat melted slightly burnt around the edge cookies that the dog even takes a second to sniff. I don't know if I will ever have the energy to keep trying but when we got Bart's Cookies my kids were overjoyed to taste an edible cookie!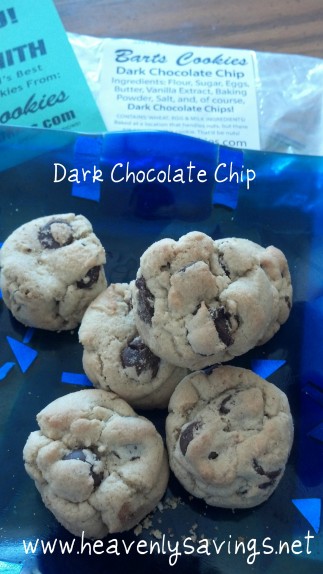 I absolutely LOVE dark chocolate and was excited to try the dark chocolate chip cookie. Since I can't ever execute a good standard chocolate chip cookie I was expecting this to be close to my mother-in-law's chocolate chip cookie which is honestly out of this world.  After taking a bite, I was instantly in love and it gives my mother-in-law's a run! Just the perfect amount of chewiness and not dry at all. Each bite was packed with flavor and dark chocolate chips. I don't know how this man does it, but he can get all those dark chocolate chips packed in these insanely delicious cookies. Be still my heart!
Bart's Cookies sells two different sized cookies. "B-Bites" and "B-Mo's". The B-Mo stands for "Big-Mother" of a cookies which is about the size of a quarter pounder apparently! WOW! Then there are the B-Bites which is what I received and they are 1/3 of the size and it says it gives you 3-4 rich bites. Which he was right! I was at first looking at them thinking oh these are cute and little…then when you pull them out of the bag and take a bite, WHOA. Packed full of flavor and I can't imagine eating a B-Mo in one setting! The B-Bites were perfect for me.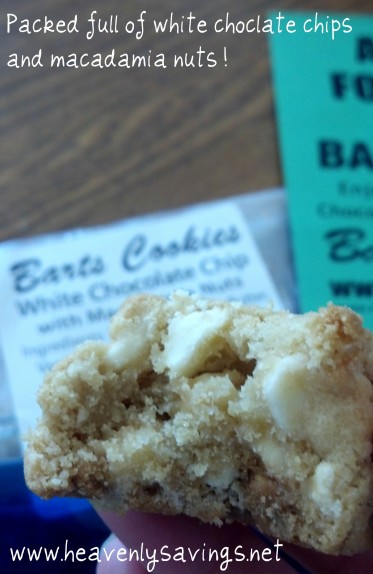 The next flavor is my ultimate favorite cookie out there. White Chocolate Chip with Macadamia nut. Oh my lanta, it was decadent beyond belief and these are gourmet quality cookies. Each bite I was able to taste the white chocolate chip and macadamia nut and I ended up telling the kids that there just simply wasn't enough of them to share. I know, but I needed to eat another one or two so I could give my honest opinion! Honestly, I could eat these all day long with a glass of milk. It was rich, it had a slight crunch and it was soft as well, yet not too soft because it holds together. Baked perfectly!
You are going to want to try out Bart's Cookies for sure! I love that he also sells Gluten Free Cookies! Each and every flavor he sells he can make Gluten Free!
Milk Chocolate Chip Cookies
Dark Chocolate Chip Cookies
Milk + Dark (combo) Chocolate Chip Cookies
White Chocolate Chip Cookies
White Chocolate Chip Cookies with Macadamia Nuts
Peanut Butter & Milk Chocolate Cookies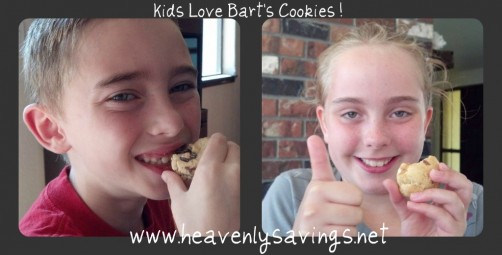 Can't you just imagine them now sitting on your counter ready to eat?! Send them for a birthday gift, get well gift, thinking of you gift, just because gift. You will make someone smile if they received these delicious cookies! These met my kids' approval and now want to try out the rest of Barts's Cookies!
Krista's Thoughts ~
I was so lucky to receive some of Bart's Cookies to review. I must say that I have not had any cookies in a long time. Mostly because it is hard to really find good cookies at the grocery store and I have not had time to bake my own.
When Bart's Cookies arrived I really did not know what to expect. I am very picky about my cookies. I want chocolate…and when I say that I mean I want lot's of CHOCOLATE! Much to my surprise that is exactly what I got when I took my first bite of Bart's Dark Chocolate Chip Cookies. It was like the entire middle of the cookie was nothing but chocolate! Plus the cookie was so soft and melt in your mouth good! I was truly blown away with the flavor as was my husband who does not usually like dark chocolate.
So how did Bart get started in his cookie business? It all happened more then 20 years ago when Bart was in college. He had a craving one night for some fresh baked chocolate chip cookies. Much to his surprise his cookies where a huge hit not only with him and his friends but to everyone at the school!
After college Bart worked hard on finding the perfect job but life had a different plan for him. It was not long before he found himself baking cookies once again. This time professionally!
I am sure glad that Bart found his calling by baking cookies. His cookies will bring a smile to your face and make you want more of his tasty chocolaty flavors. Check him out today, you will be glad you did!
~Tammy~