Your Teaching Skills are 'Popping' – DIY Teacher Gift
This summer went so fast. Just a few short months ago she was excited for summer to start and now she is already back sitting in her desk! Crazy!
This year my daughter wanted to start off the school year with some special DIY teacher gifts. Something that would let her teachers know just how much she appreciates them! As we walked around the store we came up with some fun ideas and cute sayings that we could pair with the different teacher gifts. One of them that she loved was "Your Teaching Skills are 'Popping." We decided that would be a perfect saying to put with a box of popcorn! So that is exactly what we did! The gift was cheap and easy to put together. Just purchase a box of popcorn, print out a label with the catchy saying and tie a ribbon around the box with the saying!
See how cute it turned out?!?!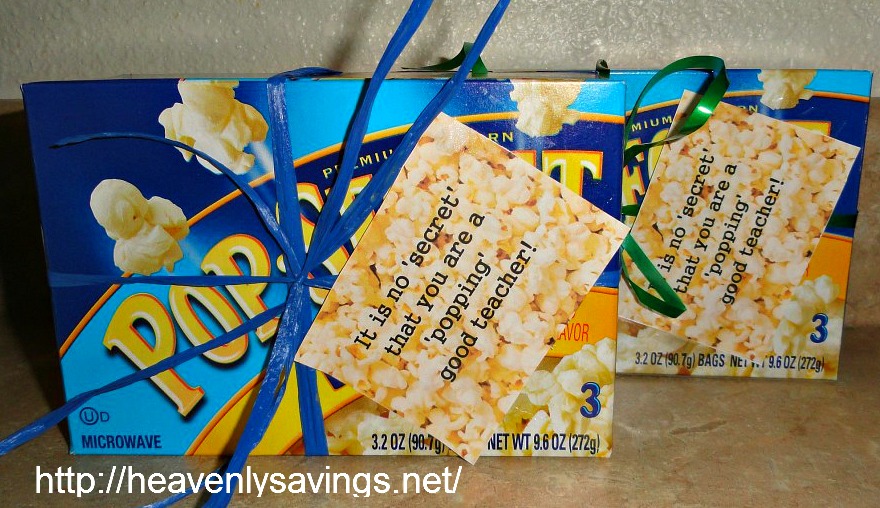 Since we purchased 'Pop Secret' popcorn we even added "It's no 'secret' that you are a 'popping' good teacher! Her teachers loved their gift and it made my daughter happy to put a smile on their faces during the first week of school!
If you are on the lookout for a great DIY Teacher Gift then you came to the right place! I have lots of great ideas!! Just check out the 'Craft' tab on the menu bar! Happy Gifting!