PopCORNers Whole Grain Chips
Popcorn and chips are my two favorite snacks. But, I know that potato chips are not exactly a healthy snack option so I have been trying to figure out a way to get the best of both worlds in a healthier way. That is why I love PopCORNers!  Some of you might remember my previous review of the PopCORNers brand. I fell in love with their Kettle chips and PopCORNers quickly became my new 'chip' that contains my love for both worlds!
Now I am happy to tell you that PopCORNers has some new flavors that are even better then ever! Why? Cause they are made with whole grain!
The new PopCORNers are made with 100% whole grain and are now sold in three different flavors. Memphis BBQ, Twisted Salt and Sweet Cinnamon. Recently I was sent a box of two of PopCORNers new flavors. The Twisted Salt and Memphis BBQ! I was so thrilled to be able to give them a try!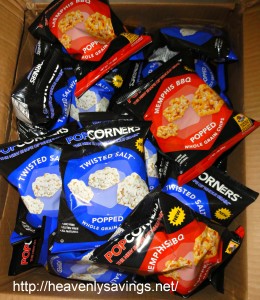 The first bag that I popped open was the Twisted Salt. I was excited to give this flavor a try as I figured it would just be like some lightly salted popcorn….but I was wrong. There was much more salt on the Twisted Salt PopCORNers then I had first anticipated. I guess that's why they say twisted….but they were good. And I can honestly say that out of both flavors the Twisted Salt was by far my husbands favorite!
The other flavor (Memphis BBQ) turned out to by my favorite. I love the sweet tang of the BBQ flavoring with the popcorn chips. It's an out of this world snack! Plus these PopCORNers contain Fiber, Vitamin A, Protein and Iron so that just makes them even better!
How would you like to win a case of PopCORNers new 100% whole grain flavors? I am happy to say that one lucky US reader will be able to do just that! Enter below!