Where does the time go?! My son just turned 8 years old and for over a year he has been completely obsessed with anything to do with sheep! If we are walking in the store and pass by something that has a sheep on it, he will literally run to it and adore that item. It's been actually a little over the top and sometimes embarrassing when your almost 8 year old son darts into the baby section and grabs the stuffed baby lambs! But you know what? I understand that most boys this age would be into more "popular" characters and desire their 8th birthday to be an action hero themed day but my son was born unique and if it's sheep he loves then it's a sheep themed party we shall give!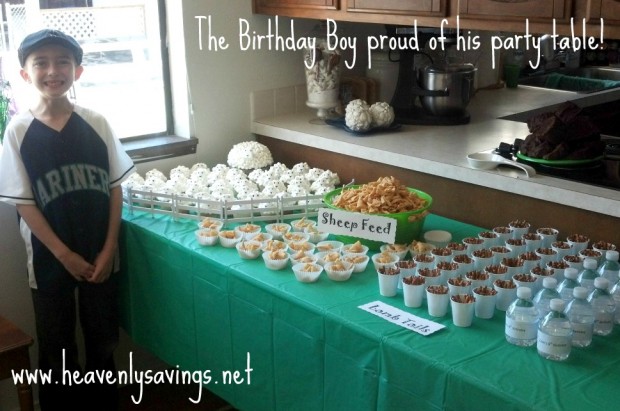 He loves to plan what his cakes are for his birthdays and lucky for him, I happen to love to bake cakes so I can just about attempt anything for him…I said attempt, not execute mind you! His obsession with sheep turned into a dream of having sheep cupcakes. Vanilla sheep cupcakes to be exact. (keep reading because you'll roll your eyes) I figured if that was the only expectation he had then we were going to have a Baa-rilliant day!

With the help of my ever so patient husband, he and I spent hours cutting out sheep for garland, creating a sheep coloring station, making sheep faces to tape to white balloons, creating labels to cut out and tape onto water bottles. Oh Yes, I really decided to go all out on his love of sheep.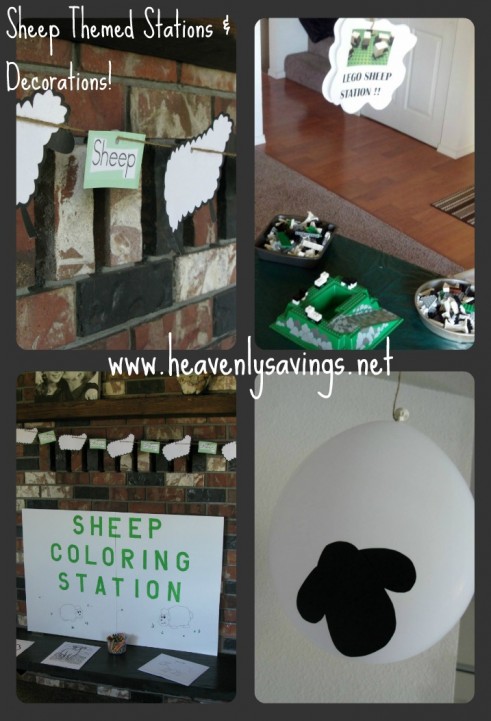 I actually spent some time looking into finding someone to bring out a real live sheep for an hour for the party and after many turn downs I found an amazing couple who thought the idea was just simply outstanding and they were ecstatic to bring one of their sheep to a little boy's birthday as a surprise! Yes I aware of everything I was getting myself into and knew it would be worth it in the end because my son hadn't spent one on one time with a real live sheep before! I knew he would love to see one up close and share that experience with his family and friends at his birthday.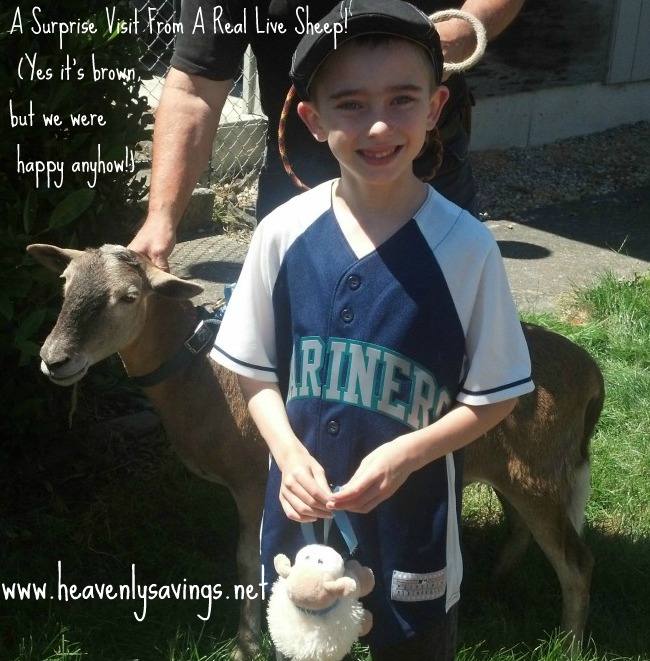 I made 40 vanilla cupcakes and ran out of white cupcake liners so ended up finding a round cake pan and decided to make one larger sheep for the birthday boy! I got creative and wrapped twine around an upside down cake pan to set the larger sheep on and put him in the back of the other sheep. I frosted them with a little more frosting than I usually would and cut mini-marshmallows in half (about two bags worth and actually my daughter helped me do this project!) We stuck all the half mini marshmallows on the frosting and saved an open area to put half of a big marshmallow on for the face! I honestly wasn't sure what to do for the face but I found some edible food coloring markers and my husband being artsy drew on these simple yet adorable little faces! I used frosting to "glue" on the ears which are still the half mini marshmallows. So simple!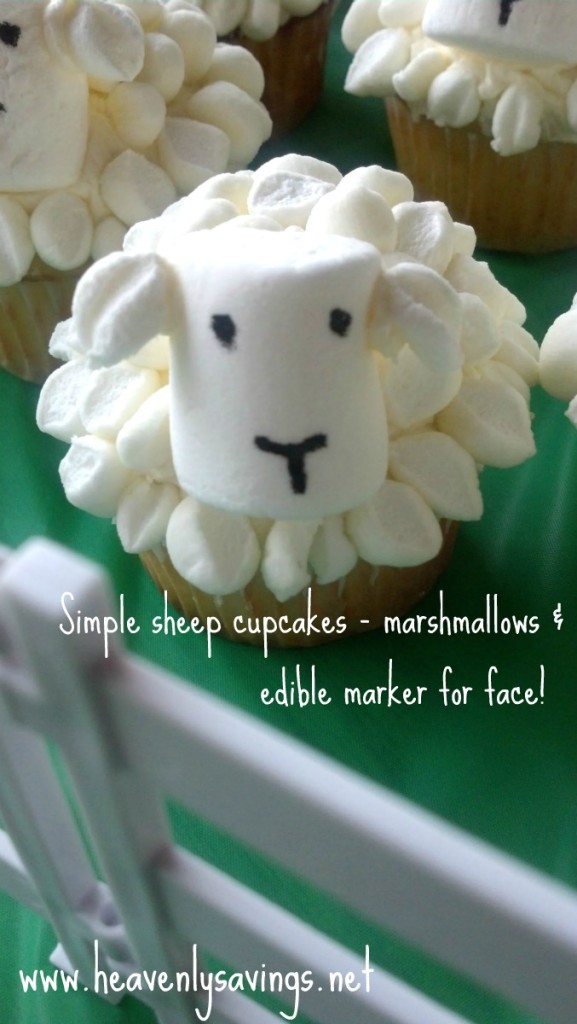 Added some snacks and labeled it sheep feed and lamb tails and voila, you have a sheep themed party table!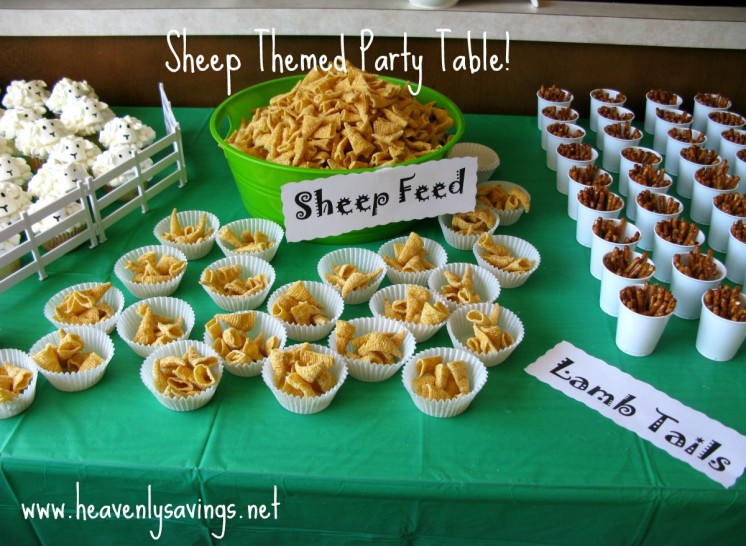 The kids had a great time at the sheep coloring station, the build a sheep lego station and outside petting a real sheep!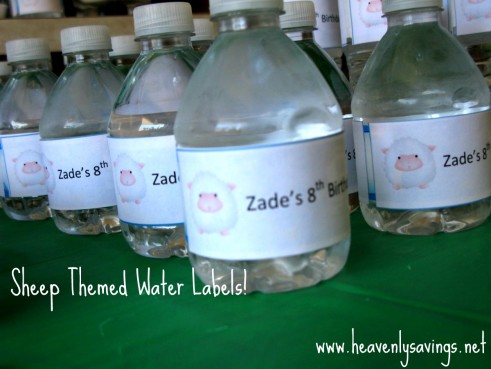 I would say overall the party went great. The look on my son's face when he saw the sheep cupcakes made it all worth it. He had waited a very long time for those sheep cupcakes and when he saw a real live sheep, he just couldn't believe it!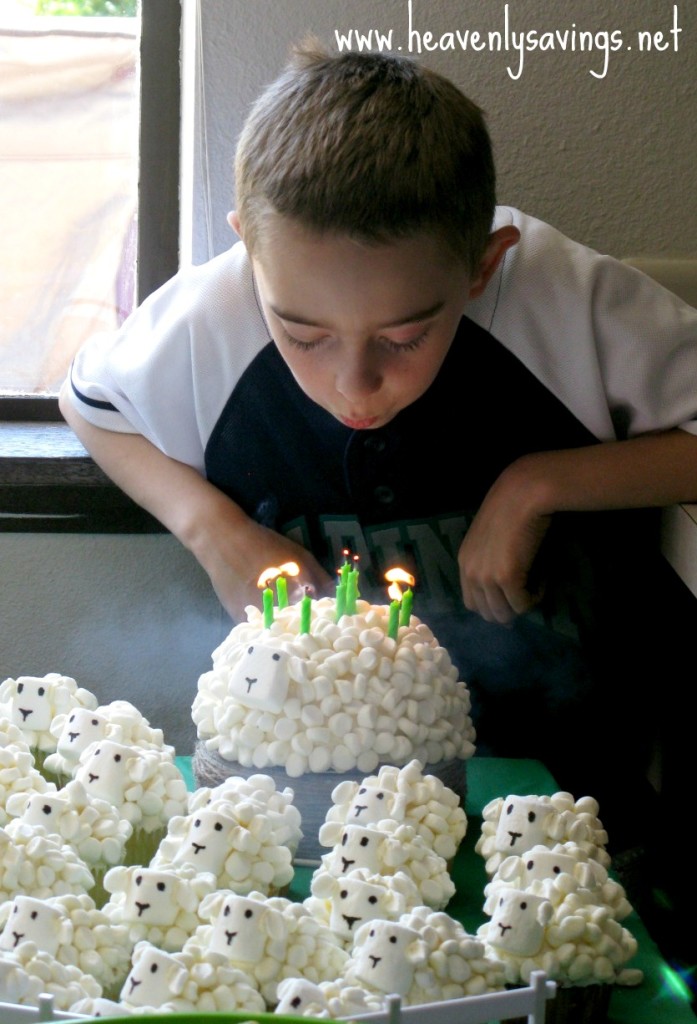 Happy 8th Birthday to my baby boy and for always keeping me on my toes ~ I am curious what next year's theme will be!
What you won't see in the pictures is the quick last minute chocolate cake I made thinking that some adults at the party may not want to sink their teeth into a pile of marshmallows and frosting. (Crazy idea I know!) I had it sliced up and piled it on a plate (not part of the pretty table) and after my son made a wish and blew out the candles, all the kids cheered and took a sheep to eat and we started passing out the chocolate cake as well until I got a tug on my shirt from the birthday boy. I looked down at him feeling so proud to have nailed his expectation and he said " I want chocolate cake instead!"
~Tammy~