Disney Teen Beach Movie!
Summer break might be over for the kiddo's in my house but that does not mean that all the Summer fun has to stop!
Today we were able to bring summer vacation back into our home with Disney's Teen Beach Movie! I was recently sent a copy of Teen Beach Movie for the purpose of this review. However I can say that my own opinion was used and was not influenced in any way.
I had never heard of Teen Beach Movie before and I was excited to watch this with my daughter. So I waited for her to get out of school and we popped in this DVD together.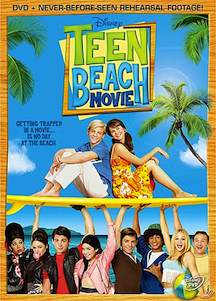 I am a huge fan of old movies. Especially those 1960's type Frankie and Annette movies. You know the ones, they take place on the beach and contain lots of singing and dancing. Well, can you imagine being trapped inside of one of those movies? Cause that is exactly what happens to Brady and McKenzie. Brady is Mack's boyfriend. He is a huge fan of "Wet Side Story" which is a 1960's beach movie. Mack (McKenzie) does not see the point in those impromptu singing movies and is not thrilled when she suddenly crashes her way right into the movie along with her boyfriend Brady who is thrilled to be inside his favorite show!
But, will Brady still be thrilled as he realizes that Mack and him are totally messing up his favorite movie? Will they be able to get the movie back on track and find their way home? You will have to watch and see!
Don't forget to score you copy which will hit the shelves July 30th!
On the Back
Catch a perfect wave of fun in the sun, splash with excitement, surprises and budding romance. Life's a beach for surfers Brady (Ross Lynch) and McKenzie (Maia Mitchell) – until a rouge wave magically transports them inside the classic '60's beach party flick "Wet Side Story," where a full-blown rivalry between bikers and surfers threatens to erupt. There, amidst a see of surfing, singing and dancing. Brady and Mack accidentally change the story line, and the film's dreamy hero and heroine fall for them instead of for each other! Can our heroes get the plot back on track, or will they be trapped there forever? Overflowing with hilarious comedy and high-energy musical numbers. Teen Beach Movie makes it an endless summer all year long!