Phineas and Ferb Mission Marvel
My daughter is a HUGE Phineas and Ferb fan. I remember having to sit and wait for hours so she could meet them at Disneyland. It is her #1 go to cartoon and I can honestly say that I have spent more then one hour today watching it with her on T.V. She just can't get enough!
Today I was emailed an amazing press release for Phineas and Ferb Mission Marvel. I am thrilled by this because I love the Marvel characters. I am a sucker for a great Marvel movie and now something I love is going to be combined with something my daughter loves. We will have a blast watching this together and I can't wait to see what antics Phineas and Ferb come up with that include these amazing super hero's!
Check out the press release I received below: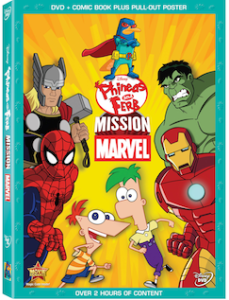 Own Phineas and Ferb: Mission Marvel on Disney DVD – October 1, 2013
Each DVD comes with a FREE collectible comic book inside with an Exclusive Mission Marvel poster
Synopsis:                                After Dr. Doofenshmirtz's latest "-inator" scheme accidentally removes the powers of some very well-known Marvel Super Heroes (Spider-Man, Iron Man, Thor, and Hulk), the heroes enter the world of Danville and team up with Phineas and Ferb to relocate their powers, defeat the Marvel Super Villains (Red Skull, MODOK, Whiplash and Venom) – who have also shown up to steal Doofenshmirtz's power-draining technology – and save Danville from ultimate destruction!
All Star Voices:                  Vincent Martella ("Everybody Hates Chris") as Phineas Flynn; Ashley Tisdale (Sharpay's Fabulous Adventure) as Candace Flynn; Thomas Brodie-Sangster ("Game of Thrones") as Ferb Fletcher; Caroline Rhea ("The Suite Life of Zach and Cody") as Mom Linda Flynn-Fletcher; Richard O'Brien (The Rocky Horror Picture Show, Ever After: A Cinderella Story) as dad Lawrence Fletcher; Alyson Stoner (Step Up 3D, Camp Rock 1 & 2) as Isabella; Dee Bradley Baker ("American Dad!," Star Wars:The Clone Wars") as Perry the Platypus; Jeff "Swampy" Marsh ("Phineas and Ferb," Rocko's Modern Life) as Major Monogram; Dan Povenmire ("James Bond Jr.," "Teenage Mutant Ninja Turtles") as Dr. Doofenshmirtz; Tyler Mann ("Modern Family" "Weeds") as Carl; John Viener (Ted, "Family Guy") as Norm; Maulik Pancholy ("30 Rock," Hitch, 27 Dresses) as Baljeet; Bobby Gaylor ("The Bernie Mac Show," "Phineas and Ferb") as Buford; Jack McBrayer (Wreck It Ralph, Despicable Me) as Irving; Drake Bell ("Ultimate Spiderman," High Fidelity) as Spider-Man; Adrian Pasdar ("Heroes," "Ultimate Spider-Man") as Iron Man; Travis Willingham (The Guardian, Secondhand Lions) as Thor; Fred Tatasciore ("Ultimate Spider-Man," "The Avengers: Earth's Mightiest Heroes") as Hulk; Liam O'Brien ("Marvel's Avengers Assemble", "Sofia the First") as Red Skull; Charlie Adler (Aladdin, "Marvel's Avengers Assemble") as M.O.D.O.K.; Peter Stormare (Fargo, Armageddon) as Whiplash; Danny Trejo (Machete, Heat) as Venom; Chi McBride (I, Robot, Gone in Sixty Seconds) as Nick Fury & Stan Lee also guest stars as himself
Creators and                        Dan Povenmire (TV's
 "Family Guy" and "The Simpsons"
) Executive Producers:     Jeff "Swampy" Marsh (TV's
 "Rocko's Modern Life" and "The Simpsons"
)                                                       
  Street Date:                          October 1, 2013   Director Prebook:             August 6, 2013   Distributor Prebook:      August 20, 2013   Packaging:                             1-Disc DVD + In-Packed Collectible Comic Book & exclusive Marvel poster (each DVD will be packaged at random with one of three distinct Marvel posters)   Episodes:                             1 – "Phineas and Ferb: Mission Marvel" 2 – "Fly on the Wall" 3 – "Sidetracked (Part 1 and 2)" 4 – "Primal Perry (Part 1 and 2)" 5 – "Backyard Hodge Podge" 6 – "Where's Pinky" 7 – "Knot My Problem/Mind Share"                                                                                         Run Time:                               Approx. 145-minutes of content   Rated:                                       TV-G   Aspect ratio:                        1.78:1 Widescreen (Enhanced for 16×9 Televisions)   Sound:                                      2.0 Dolby Digital   Languages/Subtitles:     English, French & Spanish