Aravon Shoes Review and Giveaway!
Here it is! I am so excited to be able to write this review and giveaway! Yes an Aravon giveaway!! When Drydock Footwear Group sent me these absolutely amazing Aravon shoes to review I was over the moon about it! I've never owned sandals that can pull off an office setting style sandal and then double for a night out with my husband to a nice restaurant and be comfortable the entire time type, but now I do!!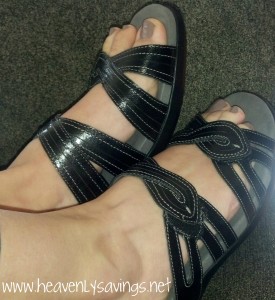 I honestly had never heard of Aravon prior to being able to review these shoes but I had a feeling that it was going to be an awesome review and boy was I right!!
I am totally in love with these sandals and the size was perfect to the size that I always wear! Sometimes when you order shoes online the sizes can change quite a bit but I am generally an 8 and sure enough these fit!
One thing that I was extremely surprised about was that these sandals have Velcro straps to adjust the individual width of your foot! I was able to adjust them and find the perfect fit on each foot!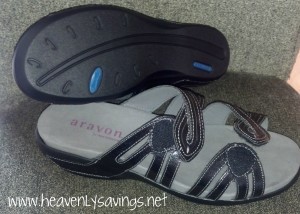 Now that I was able to find the perfect fit in this sandal it was time to test them out! I took the kids downtown and started walking! I was instantly in love with these comfortable yet stylish looking sandals! They have a support that I can't rave enough about! These Aravon sandals are also so very soft inside as well. It is so easy to just slip them on and go!
I made sure to pack these adorable sandals on my vacation with me so I could give them a good testing! They get an A+ in my book! I had many compliments on the style and my feet thanked me for keeping them comfy with all the walking I did!
There are so many styles in Aravon shoes that I cannot wait to get my second pair! I am now Aravon's biggest fan and have been telling all my family and friends about these stylish and comfortable shoes! To check out all of Aravon style shoes visit their page http://www.aravonshoes.com/ you are going to love what you see!
How would you like to score 10% off + Free Shipping? I am happy to say that you can do just that! Just use coupon code BL713HEAVENLY but you better act fast! Coupon code expires July 31, 2013.  
~Tammy~