Lilo & Stitch 3-Disc Special Edition
As most of you know I love all things Disney. That includes their awesome movie Lilo & Stitch.
Recently I was sent a copy of Lilo & Stitch 3-Disc Special Edition. It not only has the awesome first Lilo & Stitch movie but the second one as well.
I had never seen the second movie before and I could not wait to watch it with my family. As soon as it arrived my daughter and I popped some pop corn and put the disc in the Blu-ray player. In the second movie you will watch as Lilo & Stitch continue their antics.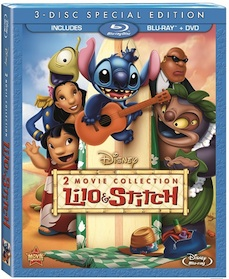 In the second movie Lilo is trying to plan out a perfect hula dance that will help her to feel closer to her Mom and Stitch is there to help. But, this time there is a fluke in Stitch. He is turning mean….and is at the point of even hurting Lilo and ruining her chances of winning the Hula competition. Will he do it? Will they be able to save him and bring him back to his normal self? Will Lilo win the competition? You will have to watch and find out!
On The Back
Disney proudly presents the hilarious family favorite Lilo & Stitch and its sensational sequel Lilo & Stitch 2:Stitch Has a Glitch on Blu-ray for the first time with perfect picture and sound. Relive two unforgettable comedies about bringing friends and family together even when they seem worlds apart, in once incredible collection!
Lilo is a lonely girl, and Stitch is a mischievous little creature from outer space. When Stitch crash-lands in Hawaii, Lilo adopts him as her pet, but he soon turns her world upside down. The laughter continues as Stitch helps Lilo prepare for the big island hula contest in the hysterical sequel. Discover that 'ohana means family, and celebrate the unbreakable bonds of the friendship like never before with these two unforgettable movies on Disney Blu-ray!
*As stated in the paragraph above I received a copy of this Blu-ray for the purpose of my review. However my own opinion was used and not influenced in any way.