This is one of the hottest deals going on! The Plink ~ Mcdonalds deal is going on this very minute and you don't want to miss out on Plink's amazing deals!
Join Plink today, take the kids out for a happy meal and you will then be able to receive a $10 gift card and 1,000 Plink Points!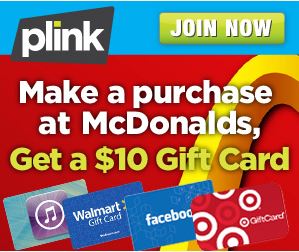 You get to chose where you want your Free $10 gift card from! You can then start earning rewards at more than 50,000 locations nationwide!
Once you sign up with Plink then you will be a Plink Member and you must link a credit or debit card and make a purchase at McDonald's by 7/14/2013 11:59 EST in order to get this great deal!
Head over to Plink today and start earning your Plink rewards!
~Tammy~