The Original Chicken Soup for the Soul
20th Anniversary Edition
Can you believe that it has been 20 years since Chicken Soup for the Soul released their first book? I remember when the first Chicken Soup for the Soul books came out. In fact I remember getting one for my 9th birthday! Yep, that's right. I was a proud owner of a book that sold over 8 million copies…and I still have it on my book shelf to this day!
These past 20 years Chicken Soup for the Soul has taken their books to a whole new level by introducing books that contain stories on topics that fit you. It does not matter if you are a Breast Cancer survivor, writer or country music lover…there is a Chicken Soup for the Soul book for you!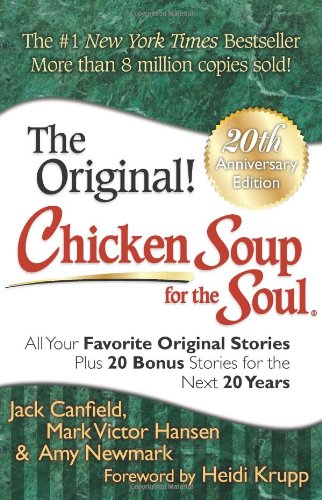 In celebration of Chicken Soup for the Soul's 20th year they have released their first book all over again in their 20th Anniversary Edition!
The Chicken Soup for the Soul 20th Anniversary Edition contains all the original stories plus 20 bonus stories! I was thrilled to receive a copy of this title for the purpose of this review!
On the Back
Everyone is talking about it. Twenty years after its creation, this bestseller continues to change lives around the world. Rediscover the power of inspiration with timeless stories about the everyday miracles that illuminate the best of the human spirit.
Whether you're discovering Chicken Soup for the Soul for the first time, or you are a long-time fan, this book will inspire you to be a better person, reach for your highest potential, overcome your challenges, and embrace the world around you.
How would you like to win a copy of this special 20th Anniversary Edition of Chicken Soup for the Soul? I am happy to say that one lucky Heavenly Savings reader will be able to do just that! Giveaway is open to US and Canada! Good Luck everyone!