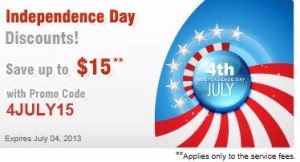 You don't want to pass up on good deals with CheapOair!
I have used CheapOair the last three times I have flown and I couldn't be happier with how many great deals they have and how smoothly the entire process is with them. I am a huge believer in this company because I have personally dealt with them for flights for my kids and I. CheapOair has a website that I can easily navigate and they make it so easy to play around with different dates and times to fly as well which is so handy!
CheapOair has some last minute flight deals booking by July 2nd and the travel period ending July 8th – Hurry over there now to take advantage of these deals!
You don't need to by flying over the Independence Day Holiday to get good rates with CheapOair  – they have amazing prices all the time and the deals are not just for flights. CheapOair also offers hotel, rental car and the whole vacation package to help make your travel plans easier for you!
Head over to CheapOair today!
~Tammy~