Easiest Healthy Granola Bars ~ (gluten free & vegan)
I absolutely love surrounding myself around so many amazing friends and one of the great things about that is they make some pretty great homemade recipes and aren't afraid to try new things out. Them being adventurous just inspires me that much more to try recipes out as well! Several of my friends have told me about how easy it is to make your own granola bars and it has been on my to do list for quite some time and I have just been putting it on the back burner for too long and after I made these bars I regret not making them sooner! Oh how easy they were to do! So easy that if I can do this, so can you and I will show you how I did it!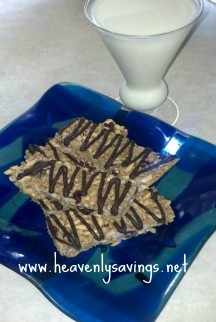 After many months of listening to my friends talk about what they throw in their homemade granola bars I was starting to make a mental ingredient list of what I wanted in my own bars and you can of course switch things up to add or subtract any ingredients you want to customize how you like them but I decided to make mine vegan and gluten free.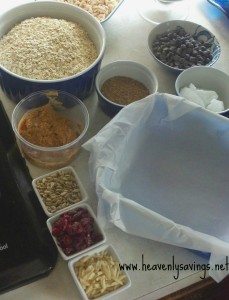 I ended up having most of the ingredients in my cupboards already but I did go to the store and grab some vegan carob chips to complete my bars being vegan and gluten free. You are going to be amazing at how easy these are to make and how healthy and delicious they are!  This recipe makes 10 bars
Ingredients :
2 cups gluten free oats
1 cup gluten free rice puffs (puffed cereal works the same I bet)
1/2 cup peanut butter (we have peanuts ground up so make sure to add a pinch of salt if your peanut butter is just straight peanuts and doesn't have salt in them)
1/4 cup melted coconut oil
1/4 cup Agave Nectar (honey would work too or I have heard syrup works great as well)
2 TBS ground flax seeds (just using what I had in my cupboard)
2 TBS slivered almonds
2 TBS dried cranberries (If you like them in your bars and want more then double!)
2 TBS carob chips (vegan and gluten free)
2 TBS unsalted sunflower seeds
Directions:
1.) Using parchment paper or aluminum foil cover an 8-inch pan and coat with cooking spray.
2.) Combine all ingredients in a bowl until you can see the mixture starting to stick together without falling apart. If it seems too dry add more agave nectar and if it seems to sticky you can add more oats but mine ended up working great.
3.) Press mixture into the coated pan using the back of a measuring cup so it all packs down tightly. Put into the fridge to chill for about 15 minutes.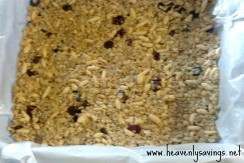 4.) Cut into 10 bars and place on plate or keep in a plastic container in fridge.
5.) *Optional* melt 1/4-1/2 cup carob chips, place in a sandwich or quart sized baggie and snip off the end of the baggie to make it easy to drizzle over bars. Put back into the fridge to harden up some more.
~Enjoy~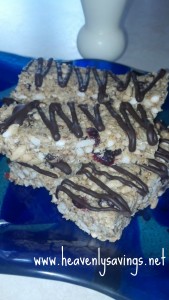 These granola bars were easy to make and I can't wait to try different combinations with them such as pumpkin seeds and maybe some pumpkin pie spice! Both my kids love these bars and they think these are a dessert and I love that they want them for dessert! A healthy dessert makes for one happy mom!
~Tammy~