Wiener Dog Nationals
Ever since my daughter was old enough to talk she has been saying that she will be a pet vet when she grows up. My daughter has a passion for animals and has a very special place in her heart for dogs.
Recently I was contacted with a chance to view a pre-screener copy of Wiener Dog Nationals on DVD. I knew that this would be a great movie to watch with my daughter! She loves to watch any movie with animal characters and this was no exception!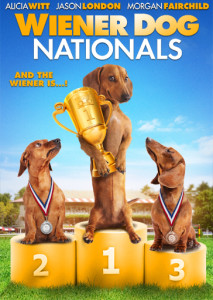 It's Danny's birthday and he only has one wish. To have a wiener dog like his Mom had when she was a child. It is Danny's way to feel closer to his Mother who recently passed away.
Wanting to please his child Danny's father decides that maybe a wiener dog is not such a bad idea…..but it's what Danny decides to do after he adopts his wiener dog Shelly that might surprise you!
Unbeknownst to them Shelly (who is named in honor of shelter dogs everywhere) has the pedigree to race. With the help of his brother Skip, Danny signs up his new wiener dog Shelly for a wiener dog race. Much to the surprise of the whole family Shelly wins regionals and is now headed to the big time. This might be a little difficult as Danny's father was recently laid off and the trip to another town to race their dog Shelly is next to impossible.
After pooling together funds Danny's family had come up with enough money to enter the race. But, there is a not so nice lady that decides to throw a wrench into the plans and rig the race for herself. Will she get away with it? You will have to watch and see!
Wiener Dog Nationals comes out on video July 2nd!
**I was sent a copy of this DVD for the purpose of this review. However, my own opinion was used and not influenced in any way.