"Sofia the First" on Disney DVD September 17th
My Daughter loves Sofia the First. This has quickly become one of her favorite cartoons to watch.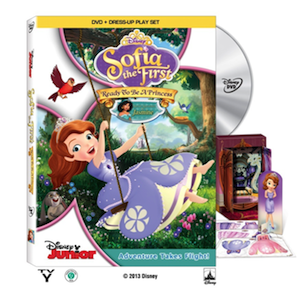 From Press Release:
This Fairytale DVD Includes 5 Fun-Filled Episodes from the TV Series, including a special appearance by Princess Jasmine, Plus a Complimentary Exclusive Sofia Doll Dress Up Kit!
Synopsis:                      Your favorite little princess-in-training returns for more music, majesty and magical fun, so get ready to have a ball with Sofia the First! Becoming royalty overnight is every girl's dream, and Sofia is eager to prove she can be a true princess. Visit an enchanted circus, meet a pet dragon and soar through desert skies with Sofia and Amber on a magic carpet ride!  But when their high-flying adventure veers off course, it's special guest Princess Jasmine to the rescue with inspiring advice about trying new things, staying strong and trusting yourself. Sparkling with extraordinary song, unforgettable characters and thrilling surprises, Ready to Be A Princess opens the door to a whole new world of kindness, helping others and being the best you can be!
About The TV Series:      "Sofia the First" is set in the storybook world of Enchancia and tells the story of Princess Sofia, an adventurous little girl who is learning how to adjust to royal life after her mom marries the king and she becomes a princess overnight.  Sofia quickly discovers that looking like a princess isn't all that difficult, but possessing the characteristics of a true princess –  honesty, loyalty, courage, independence, compassion and grace – is what makes one truly royal.   For more details on the show, please visit www.disney.go.com/disneyjunior/sofia-the-first