Are you planning on watching Space Warriors on the Hallmark Channel May 31st? I know I am!
From Press Release:
Walden Family Theater is proud to announce the Space Warriors Blog App & a chance to Win a Family Trip to Space Camp! 
Watch Space Warriors on Hallmark Channel May 31st at 8/7C for your chance to win a trip for the whole family to the U.S. Space and Rocket Center's Space Camp!  Keep an eye out for the secret keyword for a chance to go on location where Space Warriors was filmed and train like a real astronaut!
In Space Warriors, six highly skilled teenagers are handpicked to be part of a summer space camp competition but they don't realize that they will be forced to solve a life or death crisis aboard the International Space Station as the world anxiously watches.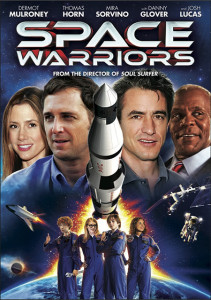 By The Way did you know that when you use the Space App you can also:
• Win a Family Trip to SPACE CAMP! – Tune in to Space Warriors on Hallmark Channel May 31 at 8/7c for the secret keyword to win a family trip to the U.S. Space and Rocket Center's Space Camp!
• How Spacey Are You? QUIZ – Are you a Space Warrior? Do you use the stars to navigate your journeys instead of the map function on your smartphone? Take this quiz to find out whether you're destined to orbit the cosmos or whether you're happiest living here on this planet.
• Prepare for Blast-off! Space Warriors Viewing Guide – Mark your calendars for May 31st and check off the boxes as you watch Space Warriorsfor the most spectacular, spaciest experience!
To go along with the fun interactive space app I am happy to say that one lucky reader will also win a Space Warriors Blu-ray Combo Pack! Good Luck to everyone!