Looking for a change in your weeknight dinners? Need some more ideas and recipes?  What about having a digital recipe book to store your favorite recipes? What about sale price notifications for your favorite stores?
Well you can now sign up for FREE with Red Set Eat Newsletter! You can't get a better deal than free! Plus with signing up you will receive twice monthly newsletters with recipes and special offers!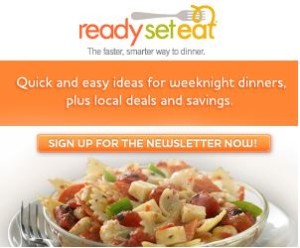 Ready Set Eat is a website that you are going to like to explore around and start your shopping list!
Head over to Ready Set Eat today to sign up for this great newsletter and start your weeknight meal planning!
~Tammy~