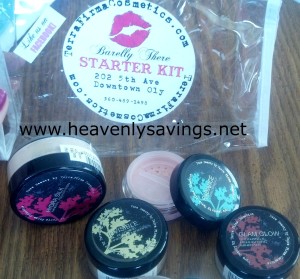 Terra Firma Cosmetics Review!
I received an absolutely amazing starter kit from Terra Firma Cosmetics to review and I couldn't be more pleased with what I found out!!
Terra Firma Cosmetics is a safer choice in the cosmetic world today – TFC (Terra Firma Cosmetics) prides themselves in the fact that their products are vegan/cruelty free! TFC has no gluten, no bismuth oxychloride, no synthetic fragrance, no parabens, no petroleums, no SLS, and no Silicone!! But what TFC is full of is beautiful products that are safe for your skin!
Terra Firma Cosmetics sent me this starter kit that had some samples of amazing eye shadows and blush, my favorite eye shadow color was the eggplant because it had some shimmer to it and it looked great on the skin! It wasn't too dark so I was able to wear it during the day time which was great! The Raspberry Natural Mineral Blush was the perfect shade for my cheeks and it added just the right touch of color to my face. I am not one to coat my face with a ton of makeup so I really do like the more natural and simple look so when I got these products to test I was a little nervous at how dark and overbearing it would be but to my surprise they matched my skin tone and I can now say I am a huge fan of Terra Firma Cosmetics!! I am going to break down for you what I was able to try out –
~ Eliminate Concealer Mineral Powder – this was great to cover up any red spots on my face, it worked perfectly and has a sifter style lid so you don't get too much on your brush at once.
~Hydra Silk Mineral Foundation – this loose mineral foundation had more of a creamy texture and really helped smooth out my skin and might I add a fun fact here, the price you pay for this product and the amount you get with the price outweighs other name brand foundations! Check out Terra Firma Cosmetics here to look at the price comparison!
~ Invisible Oil Blotting Finishing Minerals – does exactly what it says it does, it truly blots out the oil and prevented my face from becoming all oily in the T-zone where I generally show the worse
~Radiance Blushing Minerals in the color of Tender truly worked for me and my skin tone, it wasn't overpowering and it really added some color to my face without making it look like too much.
~ Glam Glow Bronzing & Highlighting Minerals is a soft glowing powder which just give the face that extra glow without being too powerful
~ All Over Glow Face & Body Sparkling Minerals – this is great for the neck and arms as well, it gives your skin a fun light shimmer!
Terra Firma Cosmetics has an array of beauty products sure to fit any skin type!
~Tammy~