Chloe's Closet Super Best Friends on Sprout!
I had never heard of Chloe's Closet before. But I knew that if it was on Sprout then it would be a great show!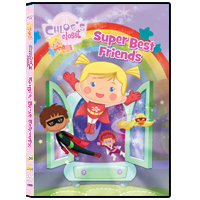 Let me start out by saying that I wish when I was a kid that my closet did what Chloe's Closet does in this show! It's simply amazing!
This past week I received a copy of Chloe's Closet Super Best Friends for the purpose of this review. I was excited to watch this new to me cartoon and I knew that the kids would be excited to see it as well.
Chloe is a bright young girl who goes on amazing adventures. Her imagination is endless as her closet is magical and can open up new worlds with each and every episode.
This Chloe's Closet Super Best Friends DVD started out with Chloe and her friends being super hero's. It was fun to see them try to help out the city from a hiccuping Gorilla.
In the next adventure Chloe is on a mission to help her friends as she is a doctor and needs to try to help lots of toys with their crazy ailments!
On The Back
Welcome to the magical world of an adorable little girl named Chloe, who embarks upon fantastical adventures during dress-up play. Get ready to turn on your imagination as you help Chloe open up the closet door in her bedroom, put on a costume and embark upon a fabulously fun and fearless, anything-can-happen journey.
In this DVD, you can be a:
Super Hero
Doctor
Railroad Worker
Cowboy
Pirate
Stories:
Super Best Friends
No Body's Perfect
On the Right Track
The Good, The Bad and the Silly
Monkey's of the Caribbean
Running time is 60 minutes and there is also Spanish Tracks included.
**I was provided with a copy of this DVD for the purpose of this review. However, my own opinion was used and not influenced in any way.