The Jesus Passages
I am a huge fan of journalism I have kept a diary/journal since I was a young child. It is kind of funny because I always wrote out my journal entries to my daughter….YEARS before I even had her.
One of my most favorite things to journal about is God.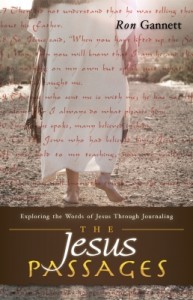 Recently I received a copy of The Jesus Passages by Ron Gannett for the purpose of this review.  I was honestly excited for this book to arrive because I knew that it would help me expand on my thoughts….and my journal.
In The Jesus Passages you will find 267 passages from the scriptures. After you read the scripture you will be able to ponder on what it means to you. There is a 'Hook' question that will make you really stop and think about the scripture and what it means to you. Then you can read 'Book' to see what that passage meant to the author. It is a great way for some extra insight into the scripture and can really get you to ponder on different aspects and passages. After the 'Book' is the 'Took' this is where your journal comes in….For the 'Took' section you are able to write down answers to the questions in your journal.
I must say that this book is amazing. It allowed me to bring so much insight into my life. Questions that I have had about my life have not been answered.
If you are looking for answers or if you are trying to find a way to feel closer to the Lord then I recommend you read The Jesus Passages. There is even a guide in the back of the book where you can search by topic. No matter what issues and problems you might be feeling in your life you can find your answers through prayer and journalism. This is a book that I will be reading time and time again!
**I was provided with a copy of this title for the purpose of this review. However, my own opinion was used and not influenced in any way.