My Thoughts on Butter Chuck!
I find it empowering to teach children to be who they want to be. At a young age I taught my daughter the importance of loving her self and not caring what others around her might say or think.
That is exactly why I love the book Butter Chuck so much!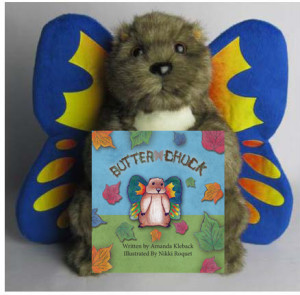 Recently I was sent a copy of this book with a Butter Chuck plush for the purpose of this review. I was excited to read Butter Chuck with the kids because I knew that it could help to open up discussions about not only being who you want to be but also discussion son bullying.
Butter Chuck is a woodchuck who longs to be a butterfly. He is often taunted and teased for being the person he wants to be. He dreams of being a butterfly with beautiful wings. But, unfortunately the other woodchucks around him do not understand and so they taunt him and call him names.
One day as Butter Chuck is longing for his dream to come true he finds himself carried away to a far away land. This is where he meets a beautiful butterfly who gives him words of encouragement. Butter Chuck learns to embrace who he is and not worry about what the other woodchucks think. Because of his embrace something magical happens to Butter Chuck…what do you think that will be? You will have to read Butter Chuck to find out!
On the Back
Butter Chuck wasn't an ordinary woodchuck. He dreamed to be a butterfly. Sometimes, it's not easy to be yourself until you find the butterfly within.
How would you like to win a Butter Chuck book and plush of your very own? I am excited to say that one lucky Heavenly Savings reader can do just that! Good Luck to everyone!