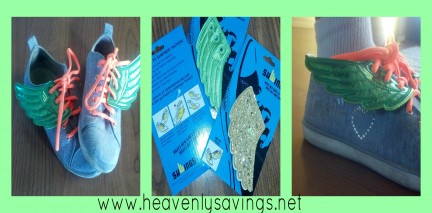 SHWINGS Review & Giveaway!
My thoughts on Shwings for shoes is that once I received these to review I thought I would allow my children to have their own opinion on them without hearing a word from me. My daughter instantly thought they were cool and wanted to go and get some bright shoe laces to match the Shwings!
Now yes, these Shwings may remind some of us of how we used to dress in the ever so popular fluorescent colors and guess what, it's back and these Shwings are sure to bring a little pop and conversation to any shoe!!
You can add Shwings to new shoes to give it an extra flair or you can add them to old shoes to make them look new and improved! Also they can fit onto any shoes that has laces and there are also Shwings for Velcro. They sure didn't want to leave any shoe out that might look a little brighter with Shwings on them.
Shwings can be traded with others to create your own style and color mix and match of your choice as well as adding two Shwings to one shoe or just one on each. The possibilities are limitless with these Shwings and how you want to accessorize your shoe!
Shwings has over 50 colors and styles to choose from and they are perfect for low tops or high top shoes and can be laced low or high on the shoe!
My daughter certainly thought they were fun and flashy and if that's what you are going for then these are for you! They certainly make me giggle and to see my daughter running around in them and loving them is just as funny so I have to say these were more of a hit in our house than I thought! I also know that there are some celebrities adding Shwings to their childrens' shoes as well so this is going to be something you may be seeing around for sure, so lace up and enjoy! You can go to www.shwingsonline.com to get some for yourself but be sure to enter for your chance to win some for free!
~Tammy~