The Aquabats Super Show Season One!
Every child loves super hero's. They spend their younger days running around the house with homemade capes and mask's. I know this because I have a house full of kiddo's that run around playing 'super hero' almost every day!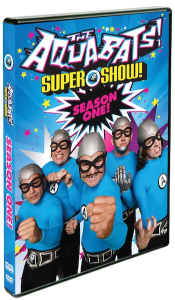 Did you know that now kids can watch friendly and fun super hero's that also sing and dance. The Aquabats are five super hero's that sing rock music. The Aquabats are dedicated to fighting evil with their catchy tunes and lyrics.
I was first introduced to The Aquabats on one of the kids favorite cartoons shows Yo Gabba Gabba. I knew instantly that The Aquabats were going to be a huge hit in my house. That is why I was happy when I was contacted to review The Aquabats Super Show Season One.
I was sent a copy of this DVD for the purpose of this review and as I watched M.C. Bat Commander, Crash McLarson, Eaglebones Falconhawk, Ricky Fitness and Jimmy the Robot jam around their stage I was carried away by their fun-loving tunes.
Meet the Aquabats gang:
M.C. Batcommander – Leader of the rock band.
Crash McLarson – bass-player
Eaglebones Falconhawk – guitarist who also has a fun pet bird that only he can see.
Ricky Fitness – drummer
Jimmy the Robot – keyboarder
The Aquabats is a mix of live concerts with animated action adventures. The Aquabats Super Show Season One set contains over 5 hours of Aquabats fun and includes 13 episodes as well as a few bonus features.
Parents there is also lots of fun for you! You will enjoy watching guest appearances by some of your favorite musicians, actors and actresses including:  "Weird Al" Yankovic, Lou Diamond Phillips (Southland), Samm Levine (Freaks & Geeks), and Jon Heder (Napoleon Dynamite).
Disc 1
ManAnt!
Mysterious Egg!
EagleClaw!
Laundry Day!
Ladyfingers!
Haunted Battletram!
Cowboy Android!
Disc 2
Uberchaun!
Pilgrim Boy!
Floating Eye Of Death!
Night Of The Cactus!
Cobraman!
Showtime!
If you are on the lookout for a great DVD to share with the kids then I recommend The Aquabats! It will be available for purchase May 21, 2013!