Grandma's Shrimp Salad!
Growing up my extended family always got together for every holiday. One of my favorite things about getting together for a holiday was enjoying all the amazing food that was prepared.
Each year there were many new dishes to try…but there were also those staples that everyone loved but we only got once or twice a year.
One of those amazing staples is my Grandma's Shrimp Salad. This is a favorite dish among my family and something we still look forward to enjoying every Thanksgiving as we visit her home. My mouth is watering just thinking about my Grandma's Shrimp Salad!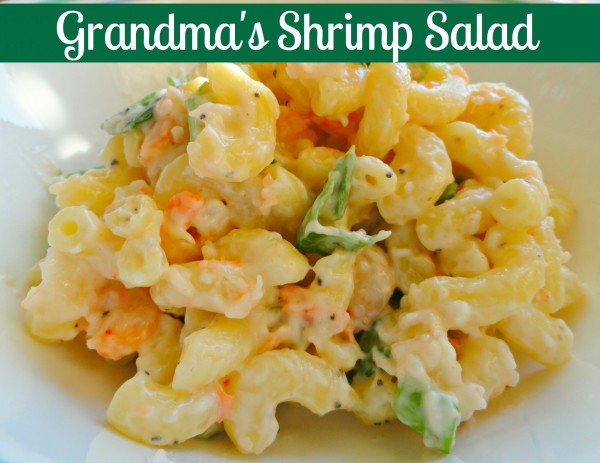 Ingredients:
1 1/2 lb elbow macaroni 2 cup Miracle Whip 2 bundles green onions 8 oz canned shrimp salt and pepper to taste   
Directions: 
1. Prepare macaroni using directions on package. Drain, set aside to cool.
2. Dice 2 bundles of green onions.
3. Transfer macaroni into serving dish. Add Miracle Whip, diced green onions, shrimp (drained) and stir together. Sprinkle with salt and pepper to taste. Cover and refrigerate until you serve! You can serve this hot or cold. We prefer cold so I usually make this about an hour before we eat. Enjoy!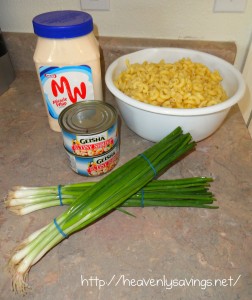 This really is mouth watering good. Plus it is the prefect dish to take to any potlucks or summer parties you might have! If you keep in the fridge over night you might want to add a little more Miracle Whip before serving the next day. Just to keep everything tasty…also…..don't tell Grandma that I just gave away her recipe ;)!
Don't forget to click the 'Magic' button below for Nutritional Information and Weight Watcher's points for this recipe!