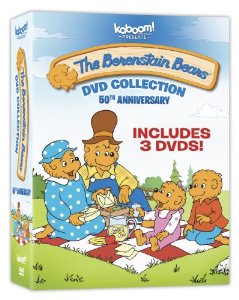 My Thoughts on The Berenstain Bears DVD Collection
I love the Berenstain Bears! They were one of my favorite cartoons ever to watch when I was a child. I love watching this wholesome family and their antics. It is a cartoon that is great for all ages and is filled with family and love.
As a child I grew up with the Berenstain Bears not only on t.v. but also in books. I would flock to the Berenstain Bears section at my local library as a child so I could read about every adventure that Mama, Papa, Sister and Brother took together.
Recently I was sent a 3-disc set of The Berenstain Bears for purpose of this review. I was happy to see that The Berenstain Bears are back in action. This 3 DVD Collection represents the 50th Anniversary of this cute series! Your kids will enjoy this cartoon as much as you did as a child! Enjoy!
On The Back
Homework Help- 
Too-Tall and the gang amuse themselves at Sister's expense by warning her how hard third grade will be and how strict Teacher Jane is. Brother tries, unsuccessfully, to convince Sis not too worry. Mama reminisces about Sister starting kindergarten and reflects on how her daughter's feelings back then were exactly the same. Sure enough, when Sister starts grade three enjoys the new experience just like she did when she started kindergarten.
Celebrations-
With Mama and Papa too busy setting up Brother's birthday party. Sister reluctantly decides to do her 'Tell Us About A Family Member' school assignment on Brother. However, videotaping him for her project not only allows her to see a side of him she never saw before, it helps her realize just how much her big brother really means to her. Ultimately not only is Sister's Birthday Boy video an A+ project, it also doubles as Brother's best birthday gift ever.
Bear Country-
Papa decides to take the cubs to the Bruin's cottage, but he is in such a hurry to go fishing, he forgot to plan ahead and pack everything they'll need for the fishing trip. They've forgotten quite a few things at the cottage – lifejackets, oars, sunhats, the fishing net….so Papa goes up and down the stairs, wearing himself out. It's only when the cubs take it upon themselves to think ahead, make a list and take everything they need with them that Papa can finally sit back and enjoy a day of fishing.