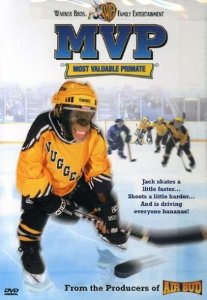 My Thoughts on MVP and MVP2
Recently thanks to ChildsPlayPR I was sent MVP and MVP2. I had never seen or even heard of MVP before this review. The only thing I did know after reading a little about MVP is that they must be really good movies because they had the same director as Air Buddies and I remember that I really liked that movie!
In the movie MVP you will get introduced to a cute and cuddly monkey named Jack. He knows sign language and has one heck of a time communicating will all of his human friends. MVP is  a movie that you can watch with the whole family. I love that there were two movies because as soon as the first one was over my family wanted more!
In the first movie Jack is on his way home after his beloved friend dies. But, Jack gets side tracked and ends up helping out a boy that he just recently met. We also discover in MVP that Jack has some amazing hockey skills!
In MVP2 Jack is back and better then ever. He still loves this amazing sport of hockey but there is a mix up and Jack is forced to leave. Along the way Jack comes across another boy who is in need of Jack's help. Can he help him? You will have to watch and find out!
On the Back
MVP – When Jack, a sign language-speaking  chimp, is sold to a research lab, he makes a break for freedom – and ends up stranded in the frozen northlands. Befriended by two teens, Jack's talent for ice skating soon turns him into the local hockey team's secret weapon. Now playoffs are in full swing. The lab officials are closing in. And Jack has one chance to prove that when it comes to skating away with the affections of an entire town, he doesn't monkey around!
MVP2 – From the makers of Air Bud, the Most Valuable Primate is going vertical! Jack is back, and this time he's traded in his hockey skates….for a skateboard! When the beloved chimp is framed for something he didn't do, he ends up lost and alone in a strange city. Befriended by Ben, a shy skateboard kid, Jack reveals a hidden talent for totally awesome skateboard tricks!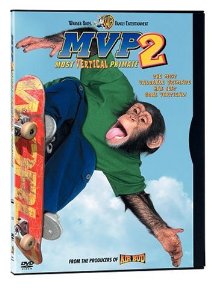 I was provided with both titles for the purpose of this review. However, my own opinion was used and not influenced in any way.