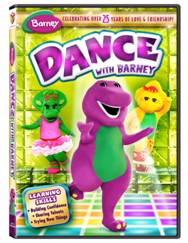 My Thoughts on Barney: Dance with Barney
Barney is at it again! This time he is dancing across your t.v. screen and having a blast while doing it! Recently I was sent a copy of Barney: Dance with Barney for the purpose of this review. With this DVD you will help celebrate over 25 years of barney! Can you believe it has been that long since this purple dinosaur captivated children everywhere? To me it seems like just yesterday….although I was only 4 when Barney first hit the t.v.
On the Back
Have a tee-riffic time where you move and grove with Barney and his friends! Join Barney and learn many different types of dance. From hip-hop to ballet to folk dance and more. And watch as his friend Jamal builds the confidence to give them a try too! Then Barney and his friends explore movement and have a ball as they wiggle, waddle, hop, and bop together! Don't miss a beat and come along for a dino-mite, dino-dancing good time!
From Press Release:
Episodes include:
·        "Dancing"
·        "Movin' Along"
·        "Dance With Me"
DVD BONUS FEATURES
·        The Barney Boogie Music Video
·        Lookie, Lookie, It's A Cookie Karaoke Music Video
·        Happy Dancing Karaoke Music Video
PROGRAM INFORMATION
Year of Production: 2013
Title Copyright: © 2013 Lyons Partnership, L.P.  The Barney name and character, related characters and the overlapping dino spots and Barney and star logos are trademarks of Lyons Partnership, L.P.  Reg. U.S. Pat. & Tm. Off. and other countries.
Type: TV on DVD 
Rating: Not Rated
Genre: Children/Family
Age Target: 1-4 years old
Subtitles: N/A
Closed Captioned: English
Feature Running Time: 76 minutes
Format: 4×3 Full Screen (1.33:1)
Audio Status: English and Spanish 2.0 Dolby Digital
Facebook: www.facebook.com/Barney
Twitter: @DinoMiteBarney
YouTube: www.youtube.com/HITBarney 
How would you like to win a copy of Barney: Dance with Barney? I am happy to say that one US reader can do just that! Good Luck!