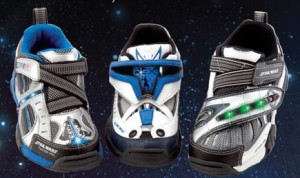 Stride Rite® is in celebration mode and why shouldn't they with these awesome shoes?! from May 3rd to May 5th, all Star Wars™ shoes will be 25% off in store and online. These are some awesome shoes and they will make any little Star Wars fan smile! You will also receive a Star Wars™ themed scratch game card to enter to win a grand prize trip to the Chicago Toy & Game Fair, including tickets to a special Star Wars luncheon!  How fun would that be?!
Check out the specs on these three awesome styles!!
·         The  Morphing Lightsaber™ sneaker features a lightsaber on the front of the shoe, which lights up with every step and will change from Yoda green to Sith red with the simple push of a button.
·         The Jedi to Sith sneaker with Shadow Lights technology represents the ultimate battle between both sides of the Force through the transformation of Anakin Skywalker to Darth Vader. This shoe features first-of-its-kind Light & Dark Sensor Technology that flashes blue in the brightness of day, and glows red in the shadows of darkness.
·         Clone Captain Rex™ 2.0 sneaker features a shoe closure that looks like a clone trooper helmet and flickers blue light to reveal Clone Captain Rex's silhouette
The sizes range from about 8 toddler to size 3 in kids shoes and they even have half sizes as well which is awesome! You can't go wrong with Stride Rite® and they also have some unique Star Wars Clog type of shoes.
These shoes have Velcro and the elastic pull over then Velcro style which is extremely handy in your everyday life – it makes it easy for the child to get on his own shoes!
I love that The Morphing Lightsaber sneaker will change from both Yoda Green to Sith red with a push of a button! Too bad they don't make these in my husbands size!
~Tammy~