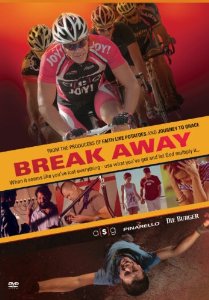 My Thoughts on Break Away
I love watching uplifting movies. Movies that don't contain all the horror and violence that is so often in movies.
Recently I received a copy of Break Away for the purpose of this review. I knew that this movie would be a great movie to watch with my family. When the title arrived we all cuddled on the couch to watch Break Away.
It only took 5 minutes for this movie to hit home. There are so many people who have lost their jobs in this economy. Some of them who have lost their jobs have slithered in self pity and sat on the couch not doing anything about it….others did something extraordinary! That is exactly what Francois did without even realizing it.
In Break Away Francois is laid off. With being laid off comes an unimaginable burden of keeping his family going and paying off the accumulating pile of debt that he has. Francois knows that he must do something and quickly applies for every job he comes across.
During one of Francois's job interviews he overhears the secretary talking about a delivery that will be missed. She is visibly upset about this and so Francois decides to do something about it…make the delivery and make a little extra cash for his family.
Francois continues to make delivery's for companies in between job interviews. It is a way to make a little extra cash but not enough to support his family and keep their home. Can he do it? Watch and see how Francois takes a bowl full of lemons and makes lemonade. You will love to see the uplifting and transforming story that takes place before your eyes! Truly a wonderful movie!
On the Back
Francois is a hard working husband and dad that get's laid off from his job. Non of his efforts to get another job succeed and he is forced to use what he has, including an old bicycle, in order to provide for his family. With the help of his "black sheep" brother, a bicycle shop owner and a pro-cyclist, Francois makes some life-changing discoveries about his life, career and faith in God.
Although a fictional story, Break Away, was inspired by true events around the recession that left people without work. The message brings hope and offers practical and Biblical solutions in a very entertaining way.