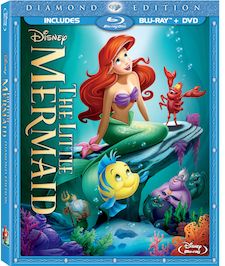 I am so excited! The Little Mermaid is my all time favorite Disney Movie Ever!!! I can't wait for the release of the Diamond Edition!!! Wahoo!
From Press Release:
Disney's
"The Little Mermaid: Diamond Edition"
Splashes Its Ways Into Homes For The Very First Time In Blu-ray™ Hi-Def
With New Breathtaking Picture and Sound Restoration
Film Synopsis:                           Ariel (voiced by Jodi Benson), is a free-spirited mermaid, who is off on the adventure of a lifetime with her best friend, the adorable Flounder (voiced by Jason Marin), and the reggae-singing Caribbean crab Sebastian (voiced by Samuel E. Wright) at her side. But it will take all of her courage and determination to make her dreams come true—and save her father's beloved kingdom from the sneaky sea witch Ursula (voiced by Pat Carroll).
Voice Talent:                                  Jodi Benson (Toy Story 2, Toy Story 3) as Ariel
Samuel E. Wright (The Lion King Broadway Show) as Sebastian
Jason Marin (Back to the Future) as Flounder
Pat Carroll (Laverne and Shirley) as Ursula
Buddy Hackett (The Music Man) as Scuttle
Christopher Daniel Barnes (The Brady Bunch Movie) as Eric
Kenneth Mars (Young Frankenstein) as Triton
Ben Wright (The Jungle Book, 101 Dalmatians) as Grimsby
Paddi Edwards (Hercules) as Flotsam and Jetsam
Edie McClurg (Ferris Bueller's Day Off) as Carlotta the maid
Will Ryan (The Land Before Time) as Harold the Seahorse
Rene Auberjonois (The Patriot) as Chef Louis
Directors:                                         John Musker (Aladdin)
Ron Clements (Aladdin)
Producers:                                       John Musker (Aladdin)
Howard Ashman (Aladdin, Beauty and the Beast)
Maureen Donley (Anastasia)
Writers:                                             John Musker (Aladdin)
                                                                Ron Clements (Aladdin)
                                                                Irene Mecchi (Brave, The Lion King)
Release Date:                                  October 1, 2013
Direct Prebook                              August 6, 2013
Distributor Prebook:                August 20, 2013
Bonus Features:                               All-New Music Video
@ Disney Animation
Disney Intermission
Deleted Character
The Real Little Mermaid: Live Action Reference Model
Part of Her World: Jodi Benson's Voyage To New Fantasyland
Howard's Lecture
Classic DVD Bonus Features
Suggested Retail Pricing:         3-Disc Blu-ray Combo Pack (Blu-ray 3D + Blu-ray + DVD + Digital Copy + Music Download) = $49.99 U.S./$56.99   Canada
2-Disc Blu-ray Combo Pack with Digital Copy (Blu-ray + DVD/ Digital Copy) = $44.99 U.S./$47.99 Canada
2-Disc  Blu-ray Combo Pack (Blu-ray + DVD) = $39.99 U.S./$42.99 Canada
Feature Run Time:                         Approximately 83 minutes
Rated:                                                        G in U.S. & Canada (Bonus materials are not rated)
Aspect Ratio:                                        1.78:1 formatted for 16×9 TV screens
Sound:                                                      Blu-ray: 7.1 DTS-HD Master Audio (English); Dolby® Digital 5.1 Surround Sound (French and Spanish)
Languages:                                           English, French and Spanish
Subtitles:                                              English SDH, French and Spanish
To learn more visit:                   Our Facebook page @ www.Facebook.com/DisneyTheLittleMermaid
Follow us on Twitter at @DisneyPictures / #LittleMermaid
View videos at  http://www.youtube.com/DisneyMovies