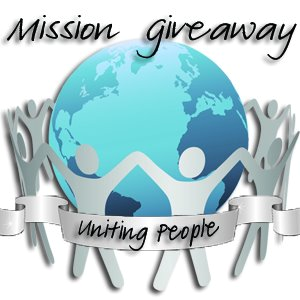 About Our Sponsor

I have learned the importance of always looking for a coupon before I do any type of online shopping. In this day in age it is important to save back every dime that I possibly can. Coupons codes are the best way to save a little extra cash on all those purchases I have to make for my family.
Couponcheif.com is a great place to go to find online coupon codes. I love the huge list of store codes they have available  Stores that I shop at all the time like Staples, AutoZone, JCPenney and more!
The Prizes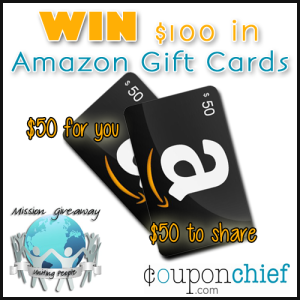 Our winner will receive a $50 Amazon Gift Card for themselves and will also get to choose someone to pay it forward to with another $50 Amazon gift card.
Keep: $50 Amazon GC
Share: $50 Amazon GC
How to Enter
The Giveaway will open up on 4/29 12:01 am EST and Close on 5/3 at 11:59 pm EST.
Complete the mandatory entries on the Rafflecopter below.
Check out and Enter our Other Giveaways
Side note…It's not mandatory to enter all the giveaways at each blog. Those are just great bonus giveaways for you to enter.
Mission Giveaway started with Madame Deals and her $100 story where with $100 several people received the help they needed. We are on a mission to help people help each other! We have gathered a group of bloggers that want to make a difference. Together we are Mission Giveaway!
To ask about becoming a sponsor, please contact Amee or Dawn at madamedealsmedia@yahoo.com for details. Take a look at our Media Kit to see what Mission Giveaway has to offer.
Are you a blogger that would like to participate in Mission Giveaway? Find out how you can join us.
Find our official Terms and Conditions on the Madame Deals Media page.