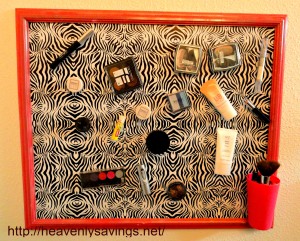 DIY Magnetic Makeup Board
As most of you know I have really been focused on getting my house organized. My main focus the past month has been my bathroom. This includes organizing my makeup. Recently someone posted a picture on facebook about a Magnetic Makeup Board. I thought this idea was amazingly brilliant and would be super cheap and easy to make! So I thought I would give it a try! Plus it would give me a chance to see all the makeup I had instead of digging around my makeup bag for everything!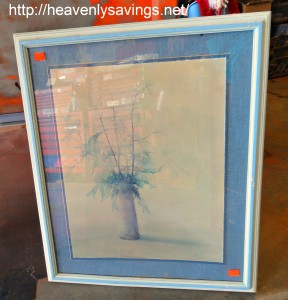 The first step to this project was finding the perfect picture to turn into a magnet board. For this I went to my local Thrift Store. I found a picture frame that would work and purchased it for $3.50!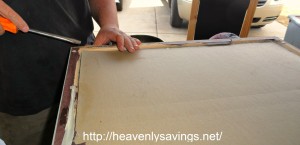 Once I got the picture frame home I got to work on my project. The first step was removing the backing from the picture frame. This picture was held together by staples so we took a screwdriver and removed all the staples from the backing.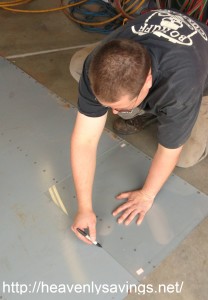 Next my husband took the glass out of the picture frame. He traced it on a piece of scrap metal that he had laying around. I understand that scrap metal might not be laying around everyone's house like it was at mine. Not to worry though…you can purchase a piece of scrap metal at any local hardware store or Home Depot, Lowes, etc…..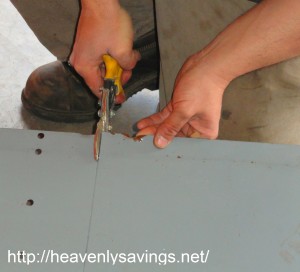 Next thing my husband did was cut the metal along the line he had traced from the glass in the picture frame.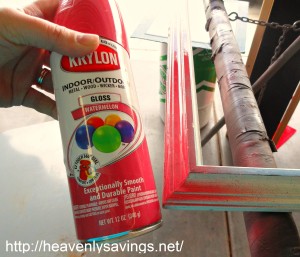 Meanwhile as my husband cut out the metal that we would later use in this picture frame I decided to paint the frame a new color. I found a bright pink gloss spray paint and got to work making my frame new and shiny again!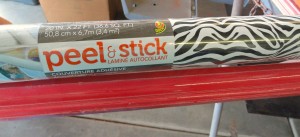 After the frame was painted and the metal was cut I pulled out some contact paper I had purchased earlier from Walmart. I knew that the zebra strips would go great with the shiny pink frame and would add some hip color to my bathroom!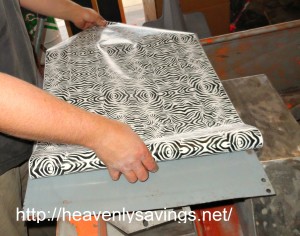 We covered the cut piece of metal with the zebra contact paper.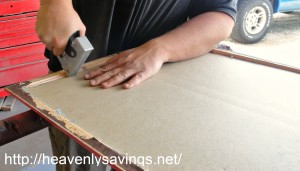 Next we put the metal into the picture frame and then put the cardboard backing back on the picture frame to hold the metal in place. Since my picture was held together with staples in the first place we decided that is how we would put it back together.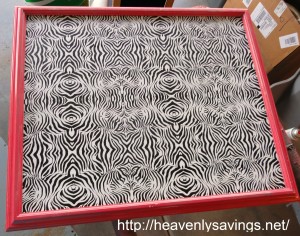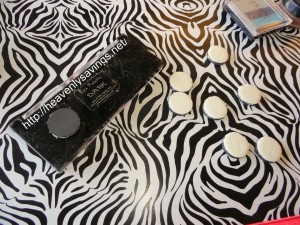 After the frame was back together I pulled out my makeup and some magnets. The magnets have a sticky backing on them so they just peel and then go on like stickers. Super cheap and easy!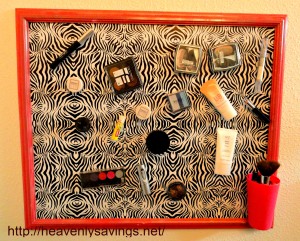 Last but not least was hanging my new Magnetic Makeup Board! I hung it in the bathroom behind the door so it is out of the way but keeps my makeup nice an organized. I even purchased a pink cup that is held to the board with magnets and holds all my makeup brushes! Love it!
You too can make a magnetic makeup board. For the total project I spent under $10! See how simple that was!