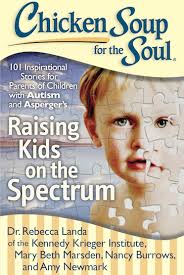 My Thoughts on Chicken Soup for the Soul
Raising Kids on the Spectrum
Thanks to Chicken Soup for the Soul I was recently sent a copy of their book Chicken Soup for the Soul Raising Kids on the Spectrum for the purpose of this review.
A few years ago I worked as a substitute teacher. One of my substitute jobs ended up being a couple of weeks long and entailed working with an Autistic student. That was my first encounter with autism. To be honest he fascinated me. The knowledge that he had was out of this world. He just did not understand what he needed to do with all that brain power he had going on. It was amazing.
Since then I have worked with and babysat many autistic children. Each of them amaze me with their knowledge! I am not a parent of an Autistic child but I do know many parents who have children with Autism and Asperger's. At times I know they feel very alone and it is hard for them to get understanding from other parents because no one understands Autism and Asperger's more then a parent who has a child who has been diagnosed with one of them.
In this Chicken Soup for the Soul Raising Kids on the Spectrum you will be able to take a look into the lives of parents who are just like you. Parents who have stories about their amazing children to share with the world.
On the Back
When your child is diagnosed with an autism spectrum disorder, your life changes and you embark on a voyage that is all-consuming, Whether your child has autism or Asperger's, to use the old terms, or has ASD, to use the new one, you develop a vocabulary filled with acronyms, therapies, and theories.
Dr. Rebecca Landa of the world-renowned Kennedy Krieger Institute brings you up to date in her introduction to this special collection from Chicken Soup for the Soul. These revealing, personal stories will inspire you, educate you, make you laugh, and make you cry as you share in the experiences of other parents and caregivers in the ASD community.
a Rafflecopter giveaway