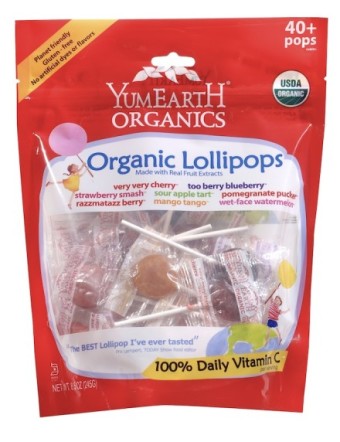 My Thoughts on YumEarth Organics
I am a sucker for a Lollipop! They are my addiction. Low in calories and it gives me something sweet when I am craving those high calorie sweets. Lollipops just seem to hit the spot for me.
Thanks to YumEarth Organics I was sent a bag of Organic Lollipops. YumEarth Organics Lollipops are USDA Organic and contain 100% of your daily vitamin C! YumEarth Organics Lollipops are made with real fruit extracts and come in a variety of flavors including very very cherry, too berry blueberry, strawberry smash, sour apple tart, pomegranate pucker, razzmatazz berry, mango tango and wet-face watermelon.
I was excited for these YumEarth Organics Lollipops to arrive, but to be honest I was expecting these lollipops to taste just like any other. I know they have more health benefits but honestly they are just candy…right? WRONG! On the package I read where it says that  Pil Lempert from the food editor on the TODAY show said "The Best Lollipop I've ever tasted." I must say that after my first YumEarth Organics Lollipops I can agree whole heartily with what Phil Lempert said. Each lollipop had a very distinct flavor and it was a bold flavor. There is sweetness to these lollipops in a way that I have never experienced. I know you might think…but they are just lollipops. But, I also know that as soon as you taste one you will agree! They are amazing!
YumEarth has many options to USDA organic candy. Not only can you purchase these tasty lollipops but also sour beans, gummies, fruit snacks, drops and more! You may purchase YumEarth Organics candy in a variety pack or shop by your favorite flavor. You can even purchase in bulk!
How would you like to win a YumEarth Organics bag of Organic Lollipops of your own? I am excited to say that one lucky Heavenly Savings reader will be able to do just that! US only! Good Luck!