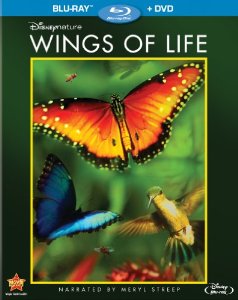 Disney Nature: Wings of Life
I can't seem to get enough of these amazing titles from Disneynature. It is amazing to finally have an up close and personal look at the world around us. Thanks to Disney I was able to review their new title Wings of Life. This movie is brilliantly put together. My daughter and I watched wide eyed as we seen a caterpillar make a cocoon, Bee's in their hive, the story of pollination and so much more.
With Disneynatures Wings of Life your child will have a blast learning about the world around them. I know as a child I spent my time trying to get close to animals but for some reason they would just run or fly away from me. Thanks to Disneynature I was finally able to see just what a butterfly's wings looked like, how the bee's carry the pollen and a caterpillar shed its outer skin. Simply amazing!
On The Back
From Disneynature, the studio that brought you Earth, Oceans, African Cats and Chimpanzee, comes Wings of Life – a stunning adventure full of intrigue, drama and mesmerizing beauty. Narrated by Mery Streep, this intimate and unprecedented look at butterflies, hummingbirds, bees, bats and flowers is a celebration of life, as a third of the world's food supply depends on these incredible – and increasingly threatened – creatures.
Directed by acclaimed filmmaker Louie Schwartzberg, Wings of Life utilizes riveting high-speed, closer-than-close film making techniques to showcase in spectacular detail these unsung heroes of our planet.
~ I can not rave enough about Wings of Life. For the first time I was able to have a look at the world around me and learn facts that I have never known before. I never knew about the flowers in the desert that only bloom one night each year, or just how aggressive a humming bird can be. It is truly amazing what these camera's are able to capture.
**I was sent a copy of this title for the purpose of this review. However my own opinion was used and not influenced in any way.