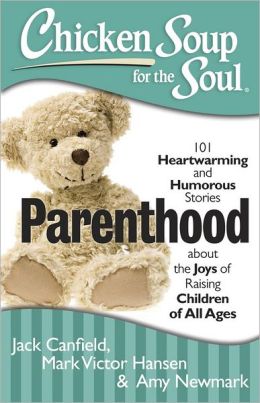 My Thoughts on Chicken Soup for the Soul: Parenthood
The greatest gift I could ever receive is the gift from a child. All I ever wanted to be as a child was a Mother. There is something so special about waking up to a smiley face of a child each day and being the one they turn to for comfort in times of happiness and pain. I would not trade it for the world.
Thanks to Chicken Soup for the Soul I was sent a copy of their book Parenthood for the purpose of this review. This book is about raising children and the joys it can bring to your life. There are amazing stories from all different years in a child's life. It is so much fun to learn and grow with children.
My daughter is almost 8 years old. There is a lot I have not experienced with children yet but then again there is a lot I have experienced. As a parent you will love to laugh along with over 100 fun loving stories from other parents just like you.
On The Back
This upbeat and heartwarming book will entertain and inspire parents of all ages, raising children from birth to college and beyond. The common thread that connects these 101 stories is made of caring, humor, hard work, and joy. Older parents will laugh a lot, tear up a little, and nod their heads in agreement as they recognize shared experiences shaping young lives. New parents will smile as they read about the adventures yet to come.
What a wonderful gift for a parent, with 14 amusing cartoons included, and chapters about:
Becoming a Family All in a Day's Work Is there a Manual for This?
Parenting Faux Pas Stop and Smell the Roses Learning from Each Other Treasured Moments From the Mouths of Babes What Goes Around Comes Around Love Conquers All Saying Thank You Giving Them Wings to Fly