Lemongrass Asparagus Pasta
I love asparagus. It is one of my all time favorite vegetables! Recently I was able to score an amazing deal on 28 lbs of asparagus. This allowed me to experiment with lots of great recipes! One of the recipes I tried out was the Lemongrass Asparagus Pasta.
I love how quick and easy this turned out to be and it helped me to add a little flavor to the usual asparagus dish that I prepare. I think my family was tired of me cooking it the same way over and over again….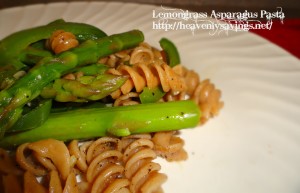 Ingredients:
2 cups cooked pasta 2 tbsp olive oil 1 diced lemongrass stalk 1 minced clove of garlic 1/2 Red Onion Diced
1 bundle asparagus (cut the bundle in half)
1 tsp balsamic vinegar
1  tbsp butter
Salt and Pepper to taste
Directions:
1. Prepare the pasta using directions on package.
2. Heat olive oil in frying pan on medium heat. Add in lemongrass, onion and garlic. Sauté about 2-3 minutes string often.
3. Add in lower parts of asparagus stalks as they are harder and take more time to cook,  sauté for about 3 minutes. Add in the rest of the asparagus and 1 tbs butter, sauté for 2 more minutes. Turn off heat once asparagus is tender.
4. Stir in 1 tsp balsamic vinegar and salt and pepper to taste.
Enjoy!
This turned out to be the perfect side dish. My family loved it. They were also happy that I found something new to do with asparagus as I think they were getting tired of me just sauteing with butter every night!
Don't forget to click the 'Magic' button below for Nutritional Information and Weight Watcher's points for this recipe!