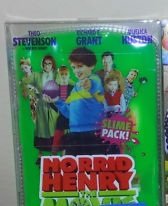 My Thoughts on Horrid Henry The Movie
As you walk through your local Walmart you might notice a movie with a very interestingly bright green case….that movie would be Horrid Henry The Movie!
Recently I was able to host a great in home party with my daughter and her friends. They were excited to watch Horrid Henry The Movie and see what he was up to. To be honest I had never heard of Horrid Henry which might be a surprise to some of you as now I know there are tons of Horrid Henry books available.
Horrid Henry was a super cute movie. Poor Henry keeps getting into trouble for things he did not do…although I understand why they blame him as some of his antics are not so nice. But, in the end will Henry be able to save his school? Or will he be forced to attend a new school which he hates? You will have to watch and find out!
On the Back
When Henry fails yet again to hand in his homework, he inadvertently sets off an unexpected and curious chain of events. He forms an unlikely alliance with Moody Margaret, the infuriating girl next door, outwits corrupt School Inspectors, topples an evil Headmaster, wins a talent contest, an evil Headmaster, wins a talent contest, and stands up to his ultimate nemesis. With each antic crazier than the last Henry finds himself inexplicably trying to save the very school which he has always professed to hate.